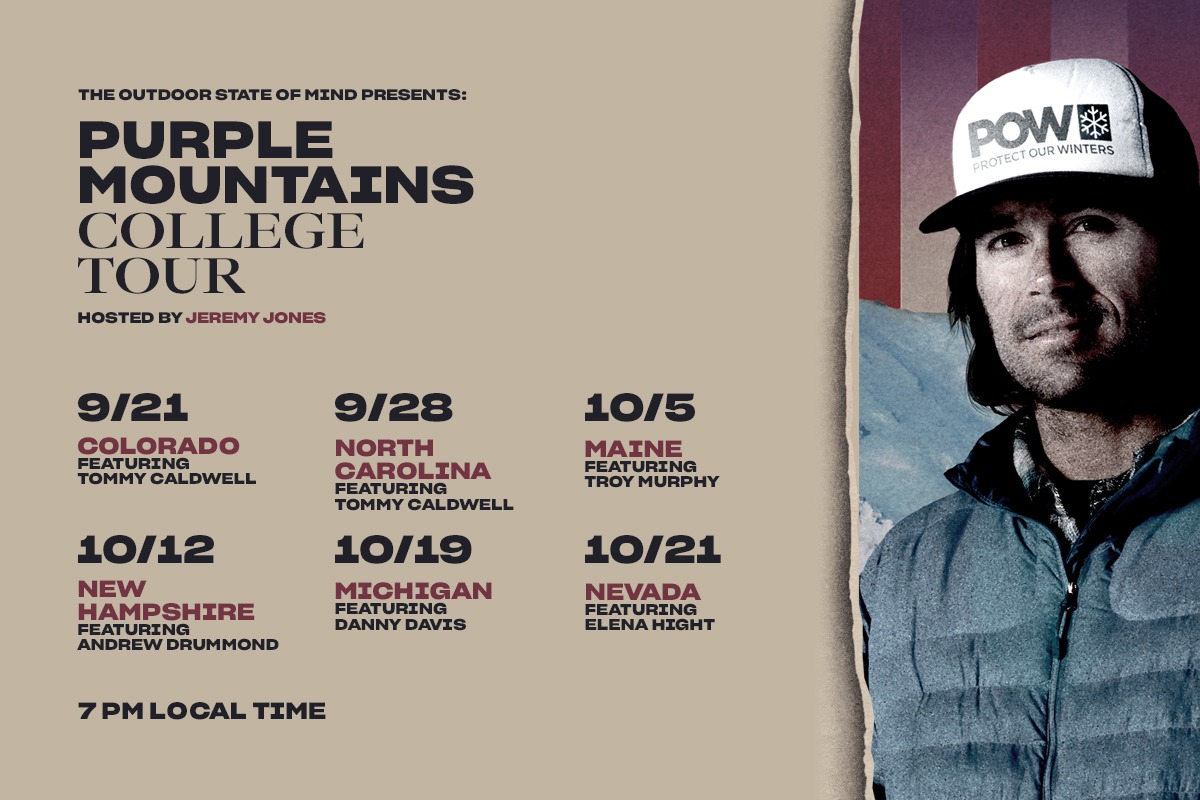 purple mountains college tour
POW founder and president (and legendary professional snowboarder) Jeremy Jones just announced his latest film, Purple Mountains, and we're taking the film on tour this fall! Over the course of six weeks, beginning September 21, we'll host virtual screenings of Purple Mountains, and Jeremy himself, along with key members of our Athlete Alliance, will be on-hand to answer questions and talk about the importance of the film. 
Motivated by an urge to protect the places he loves, Jeremy set out on a physical and philosophical journey to find common ground with fellow outdoors people across diverse political backgrounds. He learns their hopes and fears while walking a mile in their shoes on the mountain and in the snow. See what Jeremy found out by tuning into a virtual screening of Purple Mountains in your area. Below, you'll find links to sign up for each of our six tour stops. We hope to see you there!
Sign Up below to Join a purple mountains screening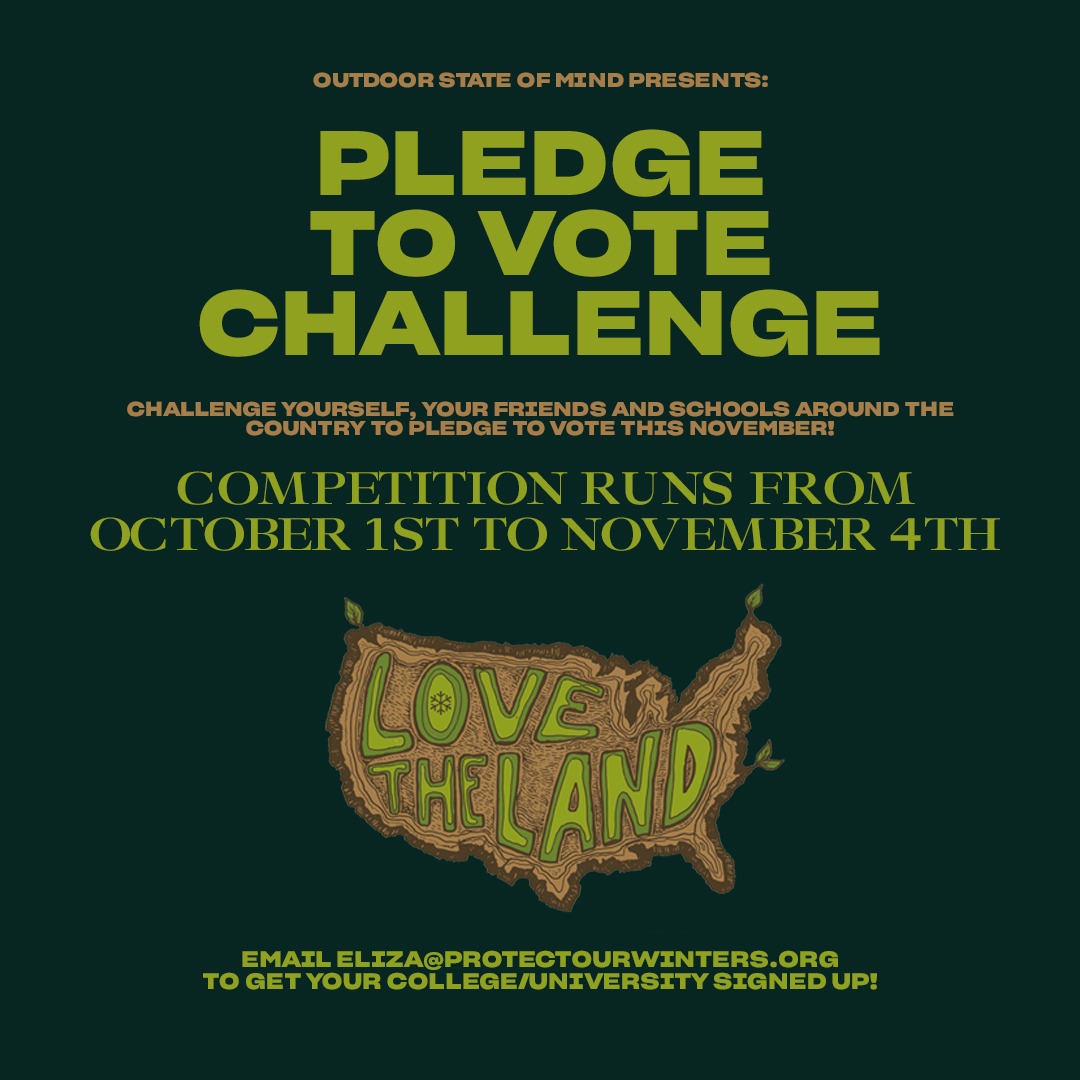 pledge to vote challenge
We are excited to share the Pledge To Vote Competition with you and hope you will get sign students involved in the challenge. Using your unique text code, you can share the pledge to vote where students will be prompted to share their name, zip code, and email address and will be later provided information that will prepare them for all things November 2020! 
The competition will run from October 1st to November 4th and the winner will be announced the following week!
Get started with our Make A Plan to Vote Tool, and we'll:
Guide you through requesting an absentee ballot.

Print your application and mail it to you with a pre-stamped return envelope. Really.

Help you plan your approach to the polls for in person voting.

Send you reminders to assure you don't miss any deadlines!
Sign Up To Host A Drop-In & Vote Party
Engaging your local network—friends, family, backcountry partners, etc.—to show up and get out the vote this November is instrumental in making an impact on the future of our beloved outdoor spaces. POW is here to make it easy and fun for you to do so. We want you, the valuable members of the Outdoor State, to host your own Drop-In and Vote Parties this fall, to have a blast with your friends and ensure your network is all set up to vote this November. We've designed each of our three party types to be held virtually or in-person, as long as you're following local and CDC guidelines. Follow the steps below to host your own party and have a blast in the lead-up to the big day in November!
Choose which party you want to host.
Sign up below.
POW will send you toolkits and materials (party packs are available for the first 50 parties).
Party & Make A Plan To Vote!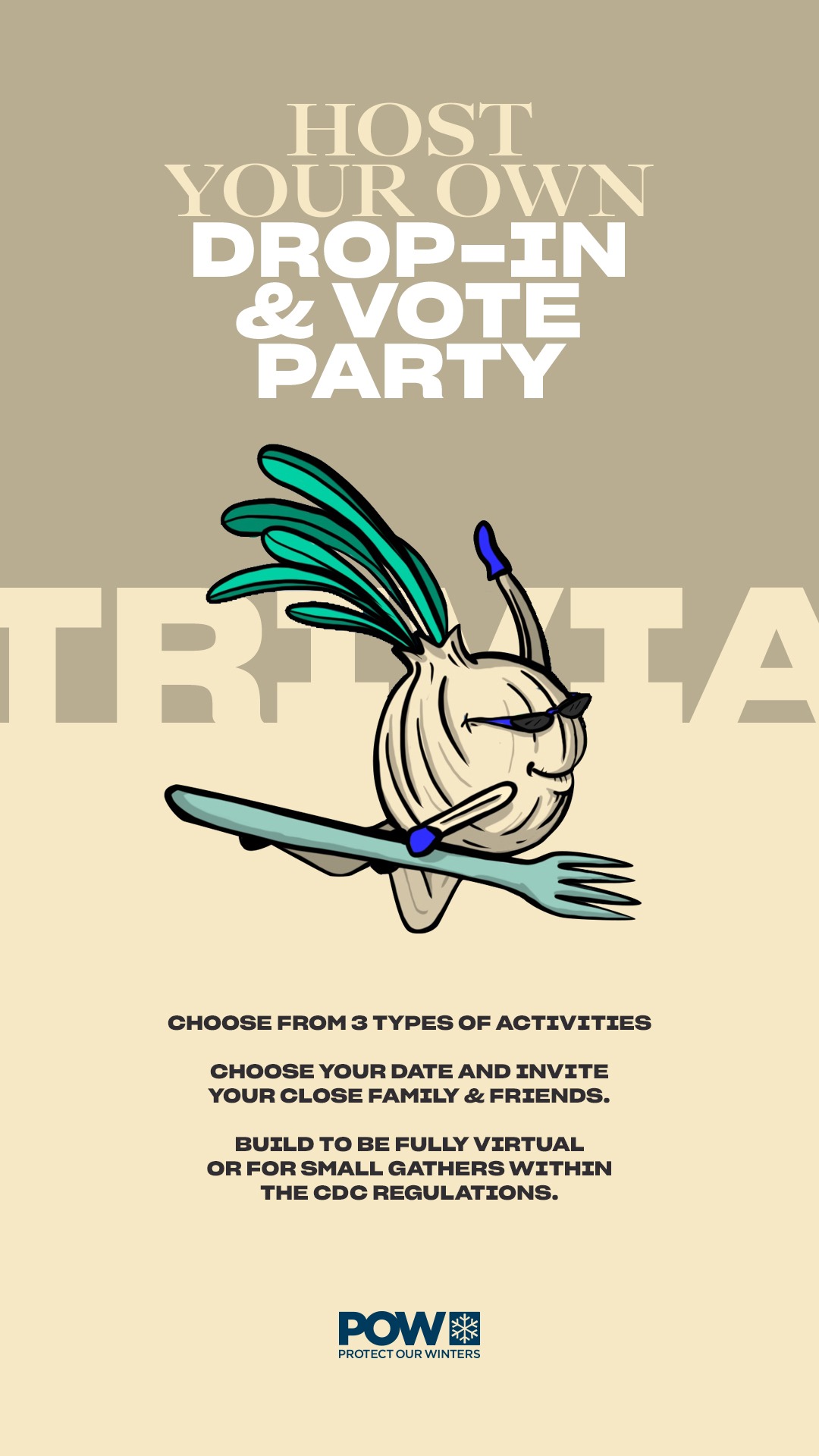 Trivia Night
Challenge your friends to a fun game of trivia focusing on the topics of outdoor recreation, climate science, geography and "runners up"—what's the second tallest peak in North America? For example. At the end of the trivia battle, work with everyone to fill out the Make A Plan To Vote Tool.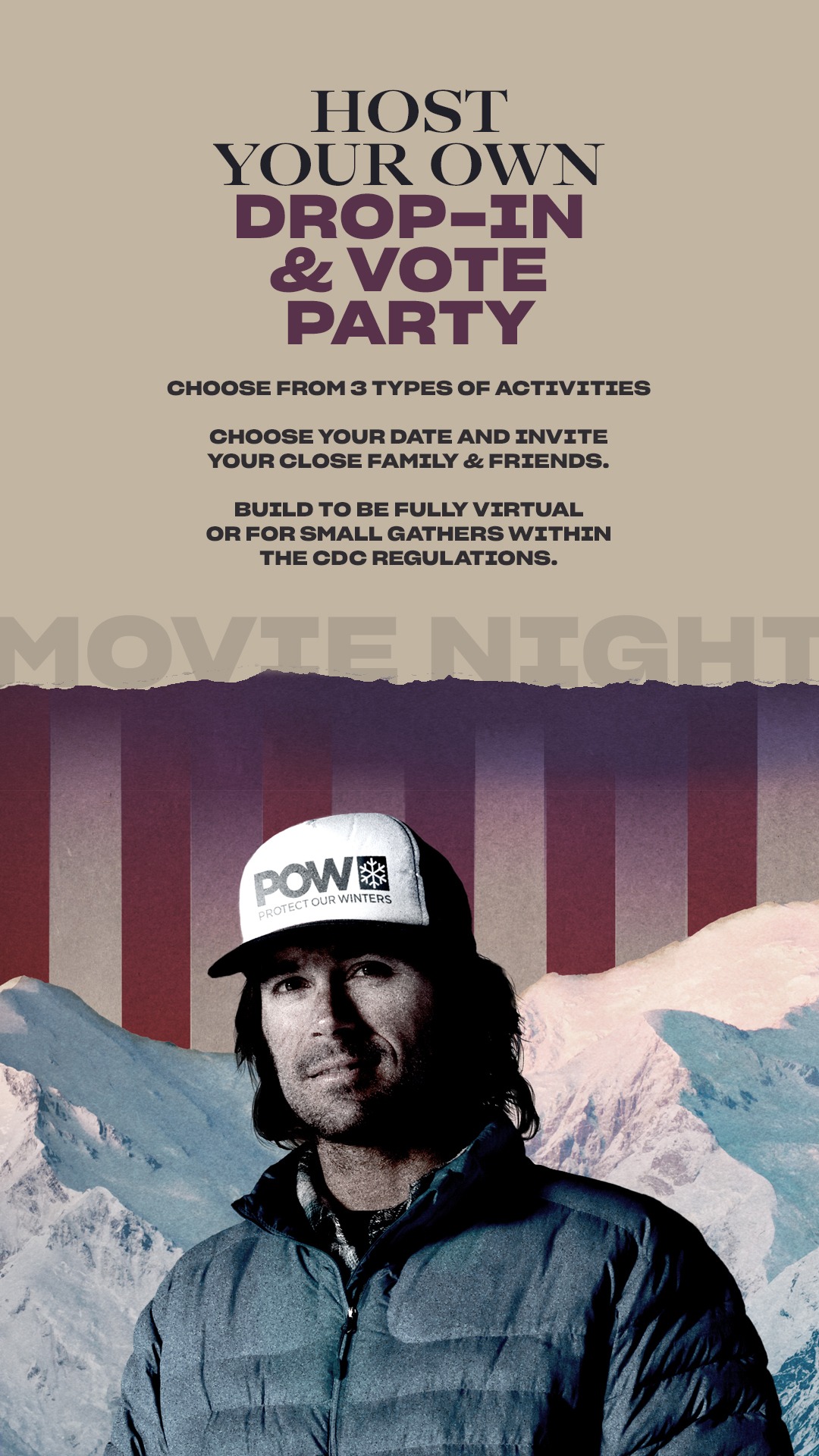 Movie Night
Host a screening of Jeremy Jones' new film, Purple Mountains, which outlines Jones' journey to answer the question of why the topic of climate change is so divisive. After the screening, work with everyone who attended to fill out the Make A Plan To Vote Tool.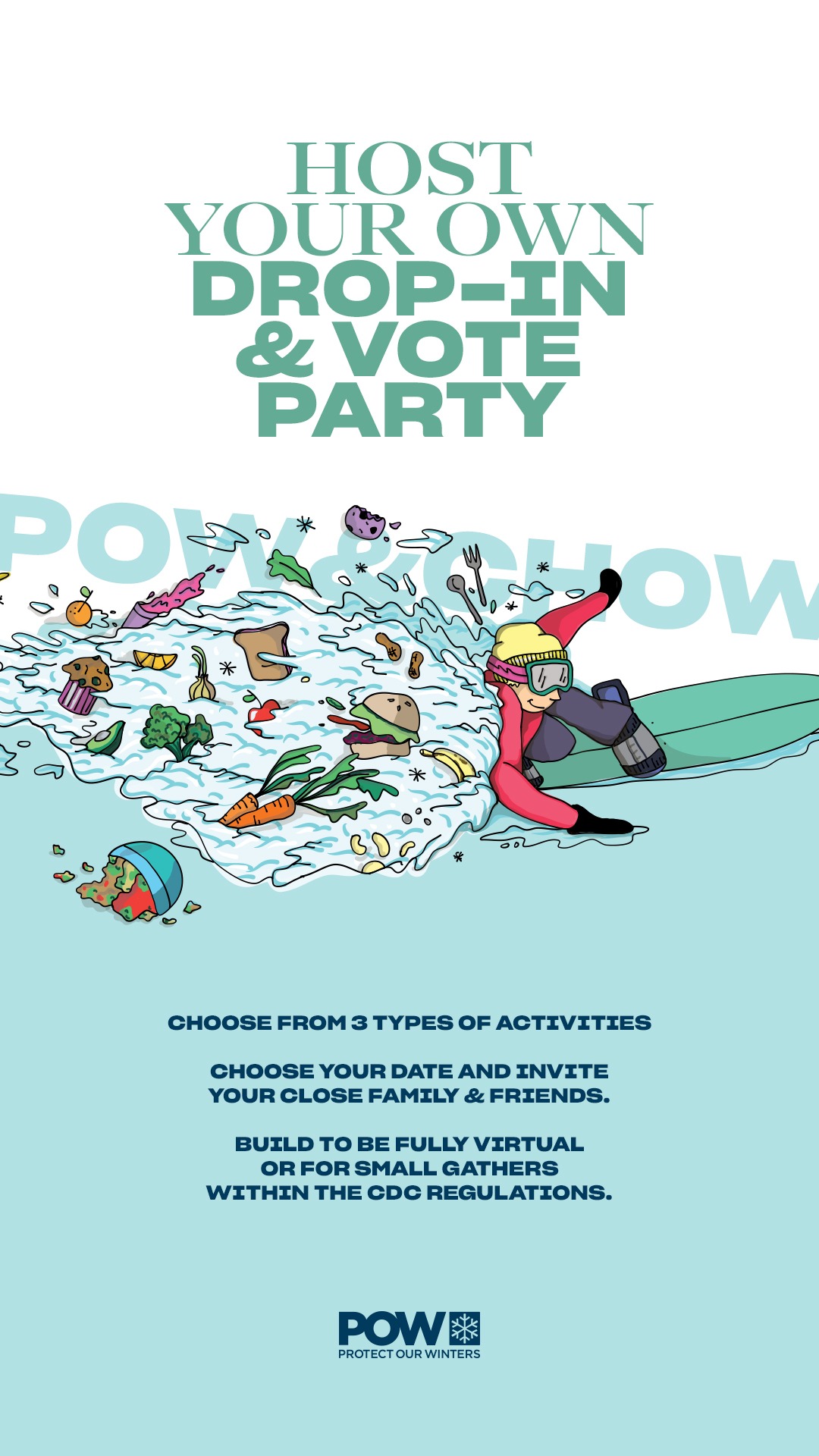 Pow and Chow Party
Tap into the cookbook of Tim and Hannah Eddy and whip up some delectable dishes for a brunch or dinner party. If you're hosting this fully virtual, encourage your friends to make their own dishes, and work with everyone to fill out the Make A Plan To Vote Tool when everyone's had their fill.
Sign Up To Host Your Own Party Below: