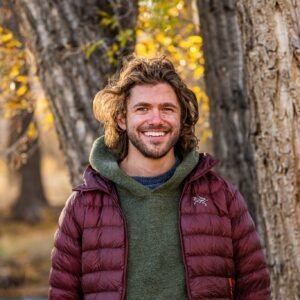 Ben Moscona
Photography, Filmmaker
Ben Moscona is an adventure filmmaker and photographer based in Bozeman, Montana. His photography has been featured in Powder Magazine, the Colorado Tourism Guide, Backcountry Magazine, Freeskier, SBCSkier, and Forecast Magazine. Since Ben was young, he loved to play in the mountains, forests, and deserts of Colorado. Ben Moscona is interested in regenerative agriculture, water and food justice, renewable energy and energy markets, and how combining these fields will help us curb emissions and bring about a better world.
In 2019, Moscona released the film The Headwaters for Backcountry Magazine about the interface between the history and future of water development and conservation in California and the role of skiers as advocates for a healthier planet.
Ben believes that by harnessing the power of snow and water lovers everywhere, we can use climate change as an opportunity to shift to a world of renewable energy, clean water, fresh air, and plentiful food for all.