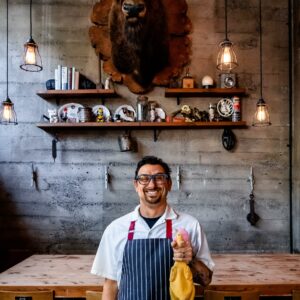 Chris Cosentino
Chris Cosentino is a passionate chef, author, cyclist and philanthropist who channels his passion for cooking and cycling into creating a positive impact.
A graduate of the culinary program at Johnson & Wales University in his home state of Rhode Island, Cosentino got his professional start at some of the country's most beloved restaurants in Washington, D.C. and then San Francisco's Bay Area. He's since opened several of his own restaurants, including Cockscomb in San Francisco, Jackrabbit in Portland, Oregon, Acacia House in Napa Valley, and Rosalie Italian Soul, in Houston, Texas.
Additionally, Cosentino has written several cooking books, including contributing recipes and articles to Peloton magazine, celebrating the intersection of food and cycling. He is a member of Chefs Cycle, an annual bicycle event that raises funds and awareness for No Kid Hungry. An avid cyclist, Cosentino founded CampoVelo, an annual weekend-long culinary and cycling event that raises funds for Chefs Cycle and World Bicycle Relief. Cosentino lives in San Francisco with his wife, son, and dog, and spends his free time cycling and telemark skiing.
Location
San Francisco, California