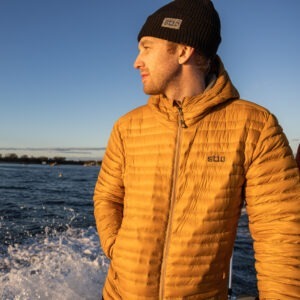 Connor Davis
Writer, Producer
Connor Davis grew up in small-town Vermont where spending time outside was simply the way of life. Hiking, biking, and camping consumed him across the warm months, but skiing was always the driving force in his life.
When he was 18, an uncharacteristic tropical storm (arguably a result of climate change) swept through Vermont and, in the process, took his father's life. Connor took some time away from school. And he thought hard about how he wanted to spend his time in a meaningful way. This led him to chase his passion for writing with 1,000% effort.
He moved to Colorado, enrolled at the University of Denver, became an intern with SKI Magazine, and—after graduating—joined the team at FREESKIER Magazine as their Digital Editor. This role brought him to some of the best mountains and humans on Earth. But as the landscape of print media changed, he changed with it and pivoted toward marketing and advertising.
For five years, he worked as a freelance copywriter—ideating and writing mostly for outdoor brands. Connor also worked full-time at a traditional ad agency in Portland, Maine. All of these experiences led him to do something pretty wild: start his own ad agency. And that's what he is still doing today.
Eastern Adventure is a unique creative agency focused on the outdoor industry. Their clients include Blizzard Tecnica, Mammut, Boyne Resorts, National Forest Foundation, and beyond. Connor is extremely grateful to do what he does and live a comfortable life as a result.
You can catch him in Portland, Maine—bopping around with his amazing wife and two inspiring daughters. Otherwise, he's out thinking in the woods—mapping out the next chapter.
Advocacy links