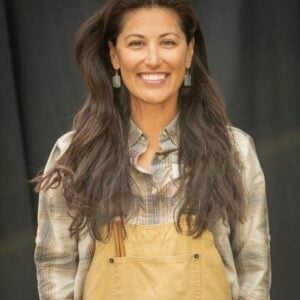 Hilary Hutcheson
Angler
Hilary started her fly-fishing career as a teenage guide in West Glacier, Montana.  She guided on the Flathead River and worked in the fly shop at Glacier Anglers through college, then took her journalism degree to Portland, Oregon where she worked as a television news anchor and reporter. She eventually returned to Montana to guide and co-own and operate Outside Media and Trout TV for nearly a decade.
Today, she's still guiding at Glacier Anglers and owns and runs her fly shop, Lary's Fly & Supply in her hometown of Columbia Falls, Montana. She also guest-guides on the Middle Fork of the Salmon River in Idaho, the Big Hole River in Wise River, and the Henry's Fork in Idaho. She serves on the boards of the American Fly Fishing Trade Association, AFFTA Fisheries Fund, Backcountry Hunters and Anglers, and Protect Our Winters. She sits on the advisory committee for the Fishing Outfitters Association of Montana's Guiding For the Future program, American Rivers' Northern Rockies River Council, and Flathead River Alliance. Hilary is a fly fishing instructor at the School of Trout and Yonce Waylighting.
Hilary is an award-winning filmmaker and journalist and is on the masthead of Fly Fisherman Magazine as a contributing editor. Hilary has written, produced, or been featured in numerous fly fishing films and recently completed a documentary about one of the nation's longest-running fishing clubs, started by jailed Japanese-Americans after World War II. She is a professional angler for top industry brands including Orvis, Patagonia, YETI, Costa, and Scientific Anglers. Her greatest joy is working on the river alongside her three adult children, Ella, Delaney, and Killion and her partner, Ebon who are all industry professionals. 

"Drop" Reveals The Impacts Climate Change Is Having On The Rivers Of The American West
Read More
"DROP" REVEALS THE IMPACTS CLIMATE CHANGE IS HAVING ON THE RIVERS OF THE AMERICAN WEST
Twenty years ago, professional fly fishing guide and POW Alliance Member Hilary Hutcheson was told that her whole world was about to change, thanks to a rapidly warming climate. Over two decades on the rivers in Glacier National Park, Montana, she's seen that prediction come true. After bearing witness to climate change's effects on her local rivers and ecosystems, Hutcheson embarked on a film project with director Liam Gallagher, titled Drop, that traced a drop of water from its source high in Montana's alpine snowpack, through the rivers of Montana, Idaho and Washington and finally into the Pacific Ocean, all while speaking to people whose lives are built around the stability of the water run-off to better paint a picture of the systemic solutions needed to solve these climate impacts.
Hilary Hutcheson's Latest Work