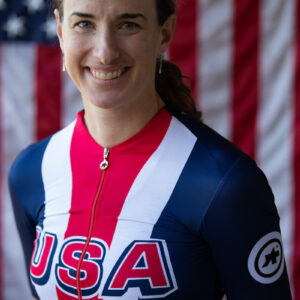 Lea Davision
Lea Davison is a two-time Olympian and a two-time Mountain Bike World Championship medalist. Over her twenty-year professional career, she has been a multiple-time National Champion. Her work ethic, perseverance, and boundless joy have created success and longevity in a demanding sport. Davison uses her platform to lift women up and mentor the next generation of mountain bike racers. Her mentees have gone on to win World Championship titles and to stand on World Cup podiums.
Davison co-founded the non-profit, Little Bellas (501c-3), a mentoring on mountain bikes program for girls. Little Bellas creates a community to empower women and girls through cycling, accent the importance of goals and a healthy lifestyle and emphasizes a positive female bond. Little Bellas has over twenty female pro-athletes and Olympians that visit the programs and help inspire.
Davison aims to be the LGBTQ+ role model that she needed while growing up, and to share her story to empower others to live a full, authentic life.