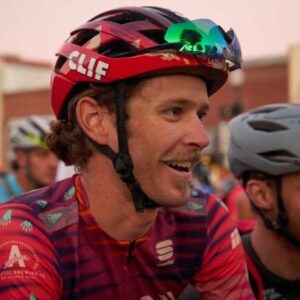 Peter Stetina
Peter Stetina is a top-tier American cyclist who has been a professional athlete for over 20 years. He started his career in 2001 when he competed in the 24 hours of Moab. From 2006-2009 he earned three National Championship titles, between 2010-2020 he competed in 8 Grand Tours: 4 Giro D'Italia, 2 Tour De France, 2 Vuelta Espana plus multiple world championships representing Team USA. In 2012, Pete was an essential team member of Ryder Hesjedal's groundbreaking Giro D'Italia Victory.
In 2015, Stetina shattered his leg and kneecap at the Tour of the Basque Country. He faced possible amputation and a seemingly impossibly long road to recovery. But, against all odds, he returned to competition the same year, finishing The Tour of Utah, known as "America's Toughest Stage Race," all while walking with a cane.
After a decade in the World Tour, Stetina struck off on his own in 2019, jumping off the smooth tarmac to seek adventures on the less-trafficked route. Stetina has aligned himself with partners who don't just share a space on the jersey but enjoy collaboration and share his ethos. Stetina believes that going fast counts, training for a goal is rewarding and racing is competition… but it can never come at the cost of sharing in the enjoyment of epic days on our bikes. Gravel isn't just a surface, it's a lifestyle. It's no wonder Gravel is booming! Off-road adventure races, according to Stetina, "became my greener pasture; a place where I could race and compete, but also enjoy the camaraderie and community of our 2-wheeled community. An exciting discipline that values inclusivity, humanity and an entrepreneurial mindset."
In 2021, he proved that a happy racer is truly a faster racer, as he was the winningest gravel racer in the world, winning 16 of the 28 races he lined up in.