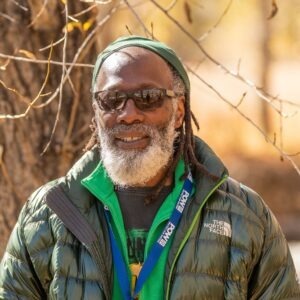 Phil Henderson
Climber
A native of California, Phil Henderson started his outdoor career more than 25 years ago. He worked for the National Outdoor Leadership School (NOLS) for over 20 years and in 2013 became the second African American to summit Denali. His passion for outdoor recreation, education and climbing has provided him with opportunities to travel, climb and ski around the world. Over the past two and a half decades he has spent many hours volunteering for several youth programs in the United States, exposing young people from around the country to our natural environment. Additionally, he has been instrumental in teaching technical skills training to guides and porters around the world in Nepal, Kenya and Tanzania.
Phil has been married for almost 20 years and has a twelve-year-old daughter. He now spends his time recreating in the San Juan mountains of Colorado.
Having worked in the outdoor industry for nearly 30 years, including involvement with environmental activism and interaction with National Park, Bureau of Land Management and US Forest Service managers and superintendents, he feels he has an underrepresented voice. Being back in the US after living abroad for many years, and after consulting with Jeremy Jones while climbing in 2013, he knows his participation with POW is a good fit for his energy and what he believes in.
Location
Colorado, USA
"I have worked in the outdoor industry for almost 30 years, I have been involved with other environmental issues over the years and have been in many land management meetings amongst the NPS, BLM and USFS managers and superintendents. I feel I have a voice that is not represented by my community. Being back in the US after living abroad for many years, being on Denali with Jeremy Jones in 2013, I know my participation is a good fit for my energy and what I believe."