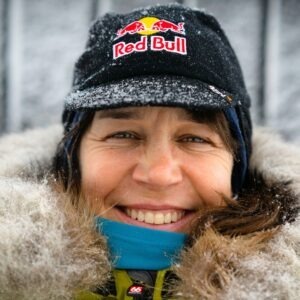 Rebecca Rusch
Mountain Biker
Rebecca Rusch is an American professional ultra-endurance athlete, seven-time world champion, author, entrepreneur, Emmy Award winner, and motivational speaker whose career has spanned numerous adventure sports. She is a member of the Protect Our Winters Athlete Alliance.
Rebecca Rusch believes that, as lovers of the outdoors, we all have our reasons for wanting to protect them. Whether our justifications are personal, moral or simply philosophical we can all agree it is a cause worth fighting for. However, it can often be difficult to translate that passion into action and to continue to feel motivated when you're simply one voice. The Outdoor State provides a way for us to amplify our voices collectively. By joining you now have a channel for your passion. Together we are stronger and it is through our strength that we can make the largest impact!
Rebecca has been fortunate to experience many cultures and climates around the world during my multi-decade career as a professional athlete. From rock climbing, expedition racing, whitewater rafting, cross-country skiing and mountain biking, she has seen firsthand how some of our sports and recreation have been seasonally modified due to global warming.
One action that Rebecca Rusch believes is essential to combating global climate change is protecting our outdoor spaces. Big or small, these are the places we access for exploration, recreation, competition and nature therapy. She would not be who she is today without the trails she rides or the mountains she explores. Not only do the existence of these outdoor places literally combat climate change through their stabilization of the environment, but it is also through the individual's experience in these places that we build advocacy for their continued protection.
Rebecca Rusch started the Be Good Foundation with this latter idea in mind. She wanted to share my passion for the outdoors, but in a way breeds long-lasting effects. At the Be Good Foundation, the mission is to use the bicycle as a catalyst for healing, empowerment and evolution. We have striven to create opportunities for outdoor exploration, personal discovery and provided humanitarian services at local, national and global levels. She also recently launched the Trailblazer program, part of the Rusch Academy, that expands to online education of endurance sports.
Location
Idaho, USA
"I believe we must advocate for the value of our outdoors, not just as material resources, but as global treasures that deserve to be protected for the good of humanity. Climate change is directly affecting their wellbeing and we must act. Time is of the essence. There is no bailout, there is no planet B. There is only true commitment."