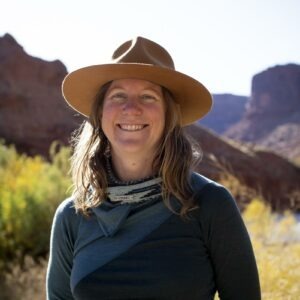 Sarah Uhl
Artist
Sarah is a self-taught artist from Carbondale, Colorado. She uses art as a tool to convey environmental and humanitarian messages. Her primary areas of focus are water conservation, climate change, public land protection, and mental wellness with a unique focus on spreading kindness. She primarily works in partnership with brands and organizations to produce artistic works that amplify cause-based messaging – either through visual assets or on-site event activations. Her whimsical style and deep personal connection to nature draw people into her creations on an emotional level.
Sarah has a diverse background, beginning with a professional cycling career that afforded her a world championship title in 2001. After cycling, Sarah worked in the outdoor industry in brand management and event production roles. At the age of 30, Sarah forged her own path as an independent artist. Sarah uses diverse mediums, including illustration, watercolor paintings, live art performances, map-making , writing, and poetry. She draws upon her previous work experience in marketing to customize her works for each client.
Sarah is motivated by her own relationship to nature. She aims to put her passion into action through art and inspire something similar in those who enjoy her work.