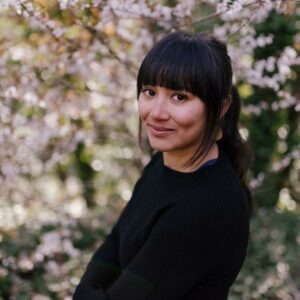 Sasha Dingle
Skier
Sasha is a skier turned meditation teacher, and the founder and director of Mountain Mind Project. She has spent her lifetime training her mind and body. Sasha has competed at the highest level of skiing and mountain biking, winning the Freeskiing World Tour and competing on the Freeride World Tour and Enduro World Series. Growing up in Vermont with a strong sense of place in the natural world, Sasha began mountain biking, alpine ski racing and following her dad to yoga class in elementary school. In high school, she was invited to travel with the National Development System and race internationally in the recruitment pipeline for the U.S. Ski Team. She's always loved the mental game.
Her meditation practice grew out of her time as a competitive athlete. Sasha saw – in herself and those she loved – how accidents, trauma and life's load can compound over a career. During years of illness and chronic pain, Sasha deepened her meditation practice, logging hours on retreat and becoming a qualified Mindfulness-Based Stress Reduction Teacher by the UCSD School of Medicine MBPTI. Sasha's style of meditation is to engage fully within the inherent risk of life, refined from her time spent in the inherent risk environment of mountains. Her mission is to normalize that the health in mental health can be cultivated – through deep relationship to self, others and the natural world from meditation practice.
Sasha is the daughter and granddaughter of Vietnam war refugees and keeps one foot planted in the Mountain West of the U.S. and the other in the Mekong of Vietnam.