Climate Change and Activism Top of Mind at SIA SnowShow
Taking action against climate change has never been more important than it is right now. That sentiment was top of mind at the SIA Snow Show last month, and we did our best to elevate the issue and give everyone at the show ways to engage, become citizen activists –  and in true POW form – have some fun doing it.
On Friday Jan. 27, 2017, we hosted our third annual "Burritos and Bloodies" breakfast featuring a keynote by Dr. Naomi Oreskes, with over 250 attendees joining us to learn more about the current state of climate change and what we can all do about it.
"She's 5 foot 3 inches tall with a combative warrior mentality" stated VP of Sustainability at Aspen Skiing Company and POW Board Chair, Auden Schendler upon introducing Dr. Naomi Oreskes.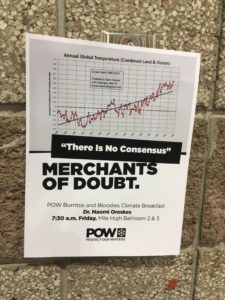 He couldn't be more spot on. Dr. Oreskes is a professor of the History of Science at Harvard University, a POW Board Member and the author of the ground-breaking, best-selling book and SONY feature film, "Merchants of Doubt".  Dr. Oreskes is responsible for unveiling the coordinated strategy of misinformation and doubt employed by the fossil fuel industry to confuse the public about the science behind climate change, just as the tobacco industry did with cigarettes' health effects. Most recently, Dr. Oreskes was part of the group responsible for uncovering ExxonMobil's knowledge of its climate impacts as far back as 1970.
Let's be real – It's been a tough few weeks for the environment under the new administration, but the good news that we all took away from Dr. Oreskes' talk was the reminder that renewable energy technology already exists and it's already cost effective. The cost of solar has dropped $77 per watt in 1977 to $0.36 per watt in 2014. The key is we need effective climate policies in place to drive the switch to clean energy, and that's where we need you, to take action and be a climate activist with us. Thank you to Dr. Oreskes and to all who came out to join us bright and early for her keynote.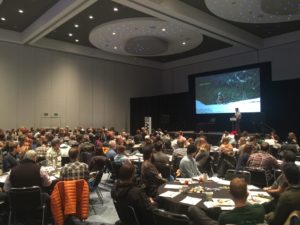 We also held happy hours with our partners at Jones Snowboards and Patagonia to help elevate the discussion of climate change. Conversations were sparked over how to be an activist, and letters were signed to help protect the Paris Climate Agreement while sipping Finlandia Moscow Mules and brews from Upslope and Alaskan.  Thank you to Jones and Patagonia for hosting us and to those who donated – helping us raise over $6,000 for our 2017 climate activism, education and advocacy programs.
Throughout the show, many of our partners launched exciting new collab products that will give supporters ways to show they care, while contributing to POW. Our partners at  Patagonia, Giro, SPY Optic, Smartwool and Phunkshun launched their new POW products, available Fall '17, and we couldn't be more excited and honored to be part of their new product lines.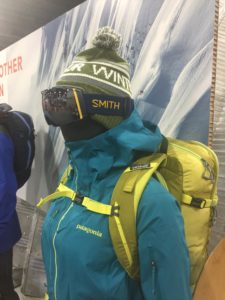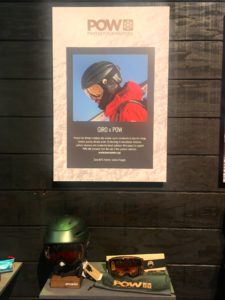 Additionally, our partners at Shred, along with Riders Alliance pro, Ted Ligety, have teamed up with Connora Technologies, The CAPiTA Mothership, and yours truly to create a goggle that uses reclaimed, recycled, and organic materials–including waste recycled from the snowboard manufacturing process.
Thanks to everyone who came by our events and to all we ran into the halls offering their support.  SIA may be over, but we're always reminded how amazing this community is and this year, that unity will be more important than ever before.