The Paris Agreement for Dummies: Part 2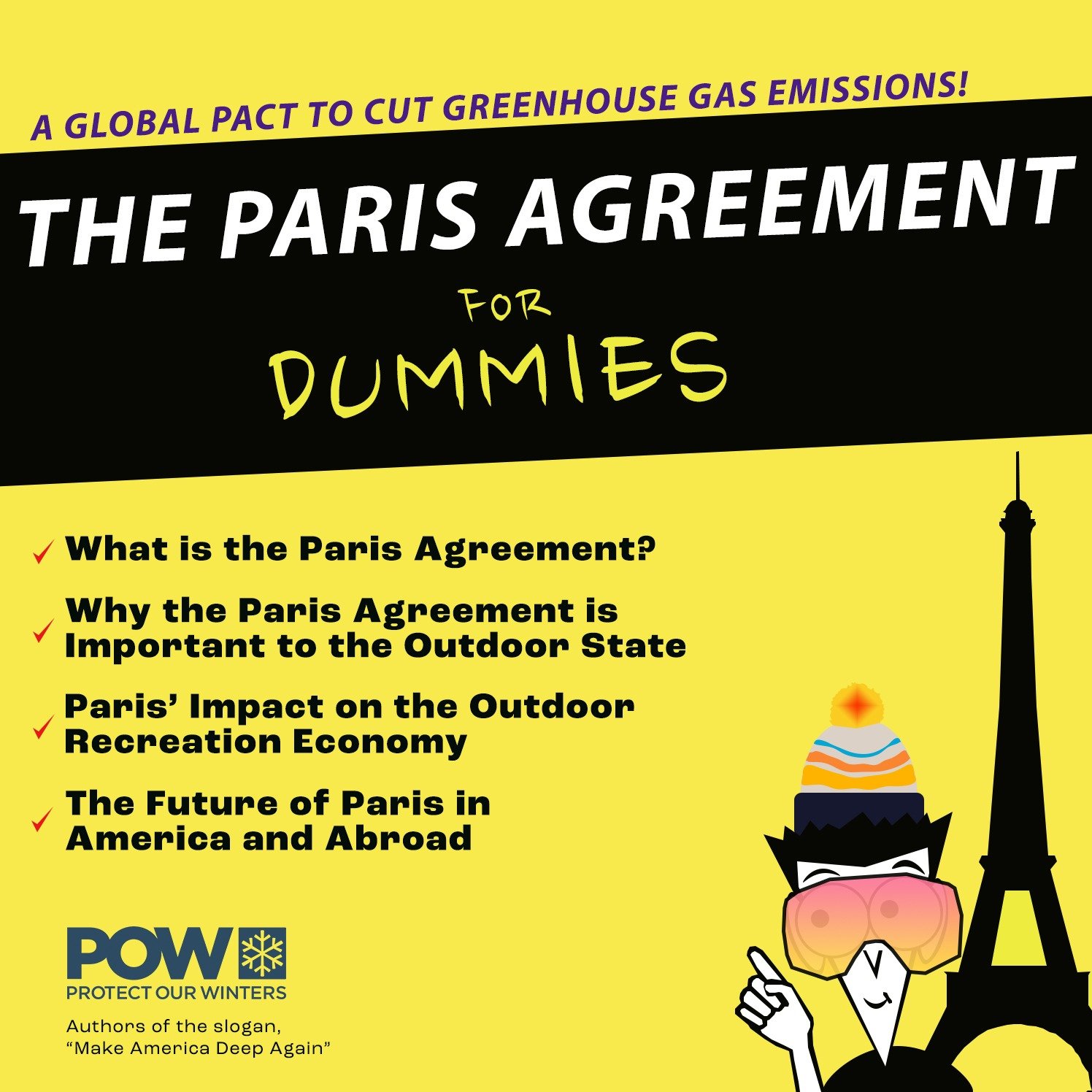 On December 12, 2020, the world celebrated the five-year anniversary of the signing of the landmark Paris Agreement. While the Trump Administration formally pulled the United States out of Paris, President-elect Joe Biden vowed to rejoin the global pact upon taking office in January 2021, and once again establish the country as a global leader on climate change. In the lead-up to Inauguration Day on January 20, POW is going to re-introduce you to the Paris Agreement, focusing on what it is, its impacts on the Outdoor State, its economic ramifications and what the future holds for the Agreement. We understand that the Paris Agreement is complex, wonky if you will, but we've broken it all down to help school you on its most important measures.
Welcome to Paris For Dummies.
WORDS: DONNY O'NEILL | HEADER IMAGE: MARY MECK
The Paris Agreement:
vital to the health of the outdoor state
Since the United States announced it was backing out of the Paris Agreement in 2017, the country has lacked federal leadership on climate change. In its absence, however, shining examples of climate policy have popped up in local communities across the country, especially in cities and towns with irrevocable ties to the outdoors. 
Take Park City, Utah, for example. Park City is a beloved mountain town world-renowned for its year-round outdoor recreation. Whether it's skiing at Park City Mountain Resort or Deer Valley during the winter, mountain biking the Wasatch Crest, sailing the Jordanelle Reservoir, sunset hiking on PC Hill or fly-fishing the nearby Provo River during the warmer months, outdoor recreation and Park City are synonymous. But with all of the advantages its location, where high-desert meets mountain peaks, provides, it's also what makes it most vulnerable to a changing and increasingly volatile climate. 
Recent research shows that by the end of the century, Park City's climate could look a lot more similar to Salt Lake City's, 3,000 feet lower in elevation. Locally, this translates to heightened wildfire risk, deteriorating air quality, drought and, most noticeably, a dwindling snowpack. The direst projections warn that Park City's viability as an outdoor recreation hub could be non-existent by the end of the century.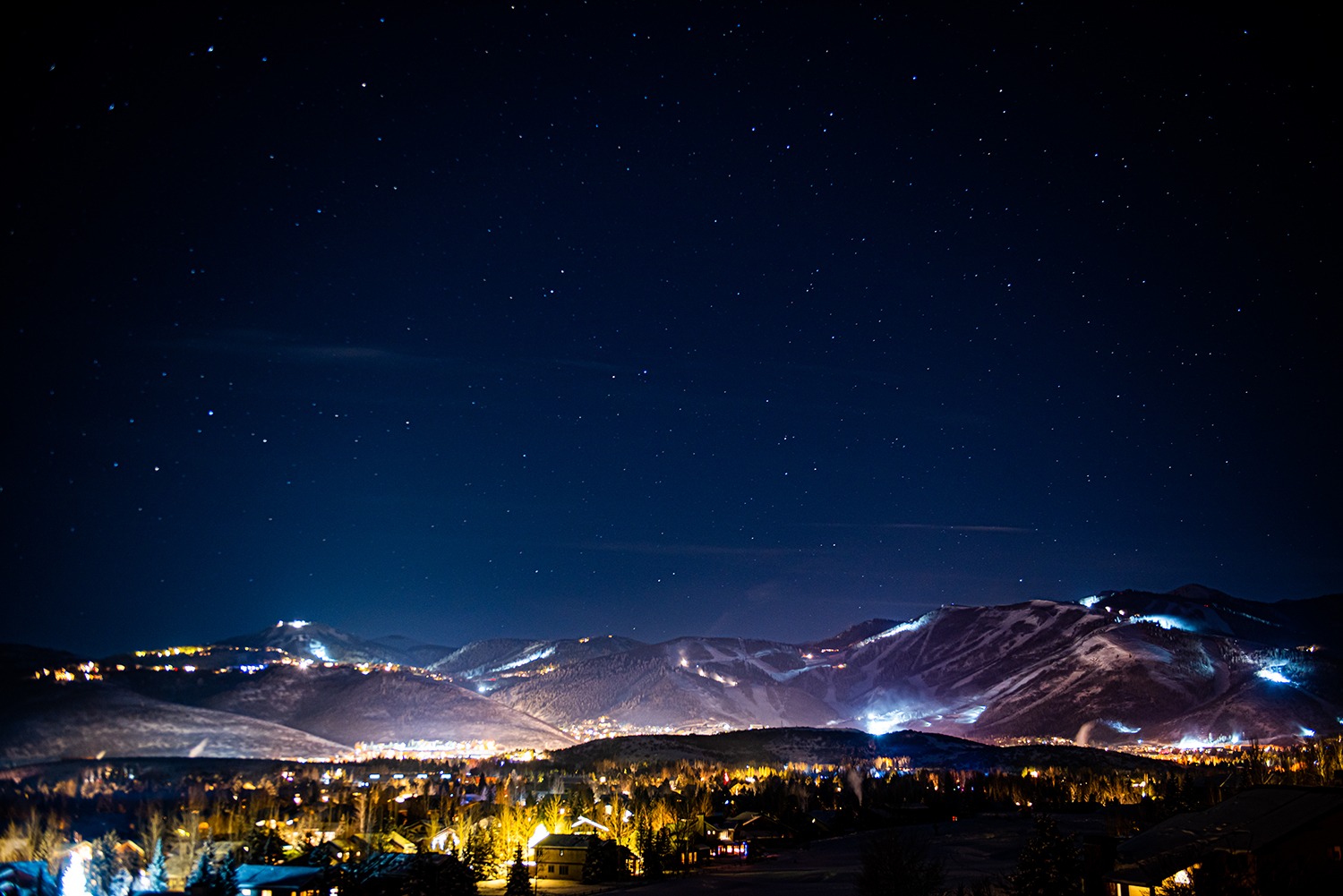 Park City, Utah, under the stars.
Photo: Donny O'Neill
Fortunately, solutions are in the works in outdoor communities like Park City already being impacted by climate change. In 2016, residents approached the City Council urging them to set ambitious goals to address climate change. The city then set targets of having a carbon-neutral footprint and powering 100% of its municipal operations with renewable energy by 2022 for city operations and community-wide by 2030. Measures included electrifying public transit, requiring new buildings to be green, energy-efficient retrofits of older buildings, implementing new solar installations, engaging municipal employees in the climate conversation and putting increased emphasis on renewables. In addition to shifting its energy paradigm, Park City has saved hundreds of thousands of dollars each year. If these strategies sound familiar, it's because they're a microcosm of the goals outlined in the Paris Agreement. 
Paris Agreement Framework
Click below for a refresher on the framework of the Paris Agreement
The examples of local leadership are plentiful. In fact, after the Trump administration announced its intent to leave the Paris Agreement, U.S, state, tribal, local and business leaders came together and signed the "We Are Still In" declaration to abide by the Paris Agreement. Since its signing on June 5, 2017, over 3,800 leaders representing 155 million Americans and $9 trillion of the national economy spanning all 50 states have signed the declaration. The collective response from states, cities, counties, tribes, businesses and other organizations signaled that meaningful action can be taken on a local level to address climate change and help propel the United States toward the goals it pledged to strive for when it first entered the Paris Agreement. With the country set to rejoin Paris in January 2021 (more on this coming soon), those local efforts will continue but now move in lock-step with support and continuity from the federal government. 
It's not a coincidence that a great deal of the communities forging forward toward carbon neutrality are known for their passionate population of outdoor enthusiasts. POW's 2018 Economic Report revealed just how vital the winter sports economy, specifically, is for the vitality of mountain communities in the United States. In low snow years, skier visits to mountain towns plummet, resulting in a monumental loss of revenue. A bad snow year is so detrimental to mountain economies that even a record snowfall season fails to compensate for the revenue lost to a low snowfall season. Climate change has detrimental effects on outdoor communities reliant on summer activities, too, with extreme weather fluctuations shutting down access to trails and waterways that bring in tremendous tourist dollars. 
To provide you with some context on how particular mountain towns dependent on a variety of outdoor recreation are pushing forward toward achieving the goals of Paris, and what achieving those goals looks like now and in the future, we've highlighted the following five communities setting a positive example for federal leadership moving forward.
Outdoor Communities Leading the Charge

Known for its funky and vibrant art scene, Asheville, North Carolina, is also one of the most picturesque natural playgrounds in the southeastern United States. Situated in the Blue Ridge Mountains, opportunities for trail running, hiking and mountain biking abound across a multitude of trails.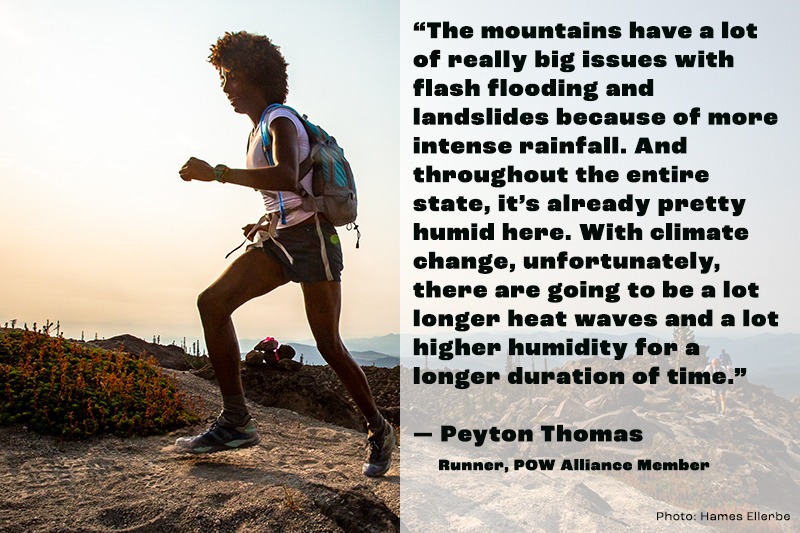 Earlier in 2020, a report released by the North Carolina Center for Climate Studies exposed the threat posed by climate change on the western mountains of North Carolina. The report was most confident that extreme rainfall in the region will escalate, leading to huge increases in flooding and mountain landslides that could have detrimental impacts on local trail systems. In addition, rising temperatures in the state will boost the water vapor prevalent in North Carolina's summertime air, bringing the heat index along with it and making outdoor recreation near unbearable during the hottest months of the year. Asheville has been a leader in climate legislation in the state, taking the following steps to curb climate change now and in the future.
Convert all municipal operations to 100% renewable energy by 2030
Power Asheville via 100% renewable energy by 2042
End citywide greenhouse gas (GHG) emissions no later than 2030
Consider GHG emissions in assessments of all new capital improvement plan project requests and provide a sustainability impact statement for those projects beginning in 2021

Boulder, Colorado, is an outdoor mecca, and just so happens to be POW's home base of operations. Among the many activities that attract outdoors people, the climbing opportunities in and around Boulder are plentiful. Whether it's scrambling the Third Flatiron or spending the day trad climbing in nearby Eldorado Canyon, climbers love Boulder. However, access to local crags, the landscape on which climbers ascend and the conditions with which they climb under are all affected by the warming climate.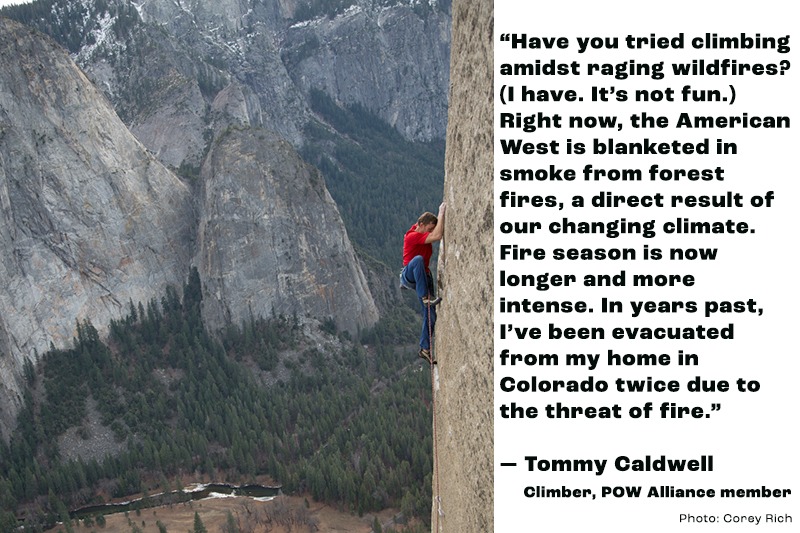 In October 2020, for example, the CalWood Fire erupted above Boulder, burning 10,106 acres and contributing to a national forest shutdown that closed access to outdoor recreation along Colorado's Front Range. According to the University of Colorado Boulder Research Center, Boulder is at risk of hotter summers (by 2050, more than half the summer will feature temperatures of 95 degrees or higher) and more instances of extreme wildfire behavior. It's difficult to spend significant time on rock when it's baking under near triple-digit heat and impossible to access crags surrounded by wildfire. The City of Boulder recognizes the significant impact global warming has on its community and has implemented the following measures to make progress toward the goals of Paris.
Achieve an 80% reduction in GHG emissions (below 2005 levels) by 2050
Power Boulder with 100% renewable electricity by 2030
Install 100 megawatts of local renewable energy generation by 2030
Achieve a 20% reduction in vehicle miles traveled by 2035
Reduce residential natural gas use by 85% by 2050
Reduce commercial and industrial natural gas use by 35% by 2050

The Gallatin River flows just outside of Bozeman, Montana, and offers year-round access to plentiful trout habitat for eager anglers. There's a reason A River Runs Through It was set in Montana; it's about as idyllic a fly fishing locale as there is in the entire country.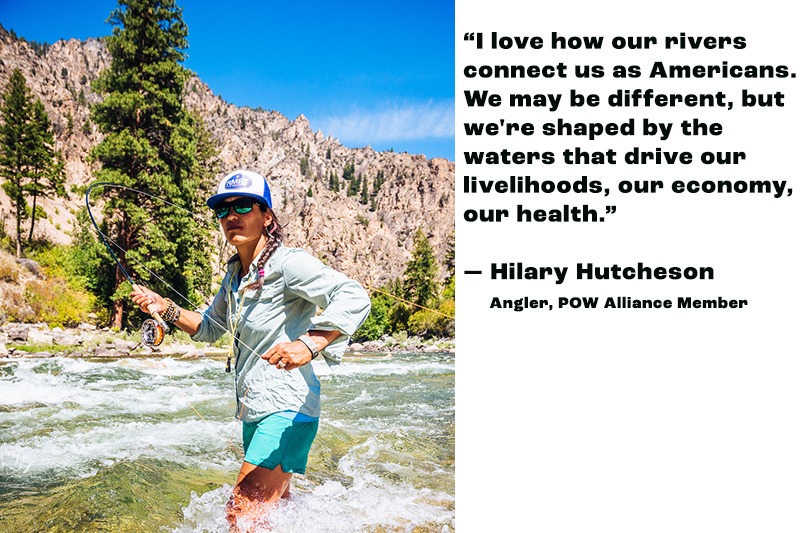 Climate change has a significant impact on the health of Montana's rivers, including the Gallatin. Trout, for example, are a cold-water species and very sensitive to warming streamflow and water temperatures. When river temperatures skyrocket the "Hoot Owl" rule is enacted, meaning rivers must be closed to anglers in order to preserve healthy fish populations. Changes in streamflow due to less mountain snowmelt also have causal effects on fishing and the local economy that depends on it. More prevalent and devastating wildfires can also impact the rivers, with ash, sediment and contaminates being flushed into waterways and polluting them. 
The health of Bozeman's fly-fishing community, and its outdoor community, as a whole, depends on the following measures the city has implemented. 
Achieve a 26% emissions reduction below 2008 levels by 2025
Achieve carbon neutrality by 2050
Power Bozeman with 100% net clean electricity by 2030
Create action items inviting Bozeman residents to join the climate effort
Weave sustainability and climate resilience into decision-making processes

Skiing is the top dog in terms of outdoor recreation in Breckenridge. The town's eponymous ski resort averages over 1.6 million annual skier visits; it's definitely the most popular kid in school. With over 350 inches of average annual snowfall, a world-class ski resort and endless opportunities for backcountry exploration nearby, it's no wonder ski bums flock to Breck to live out their two (and one, of course) plank dreams.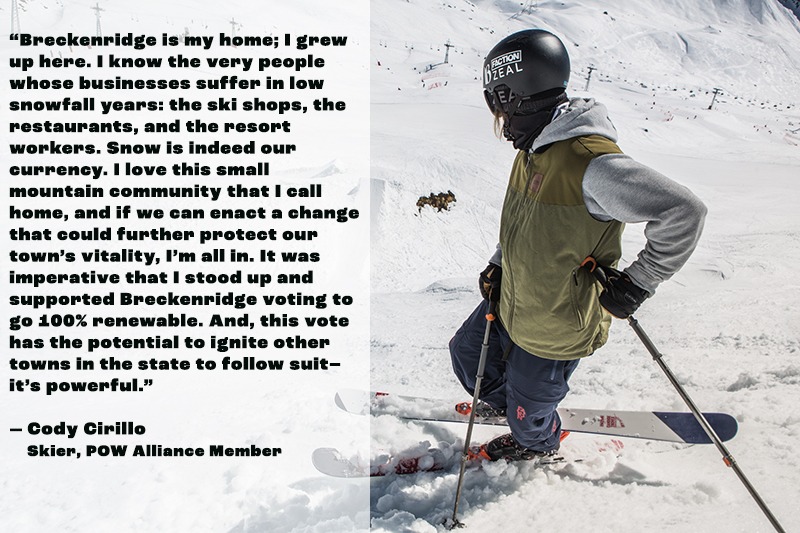 Even though Breck benefits from its high elevation, it's still particularly vulnerable to climate change. By the middle of the century, winters will start even later and end more abruptly, with far less snow falling, powder days will be few and far between and the whole definition of "good skiing" will change. Any decrease in the quality and reliability of skiing in Breckenridge will have huge economic ramifications for the town. Breck has been a leader on climate, however, first taking steps to address global warming way back in 2008. It's most recent goals are as follows:
A 100% reduction in emissions from electricity use by 2035
A 21% reduction in emissions from building energy use by 2030, and a 35% reduction by 2050
Reduce emissions from transportation 25% percent by 2030 and 91% by 2050
Reduce waste emissions 50% by 2030 and 90% by 2050

Fayetteville may fly under the radar among more storied mountain bike hubs, but this Northwest Arkansas community serves up some of the best singletrack in the country. While the Ozarks provide a beautiful wooded, mountainous landscape for two-wheel exploration, they're threatened by an increasing number of heavy rain events that have become the norm in Arkansas. In fact, since 1900 precipitation in Northwest Arkansas has increased by nearly 20 percent. Heavy downpours and consistent rainfall can have catastrophic effects, causing soil erosion and destruction, which is especially detrimental to the network of mountain bike trails that have put Fayetteville on the map.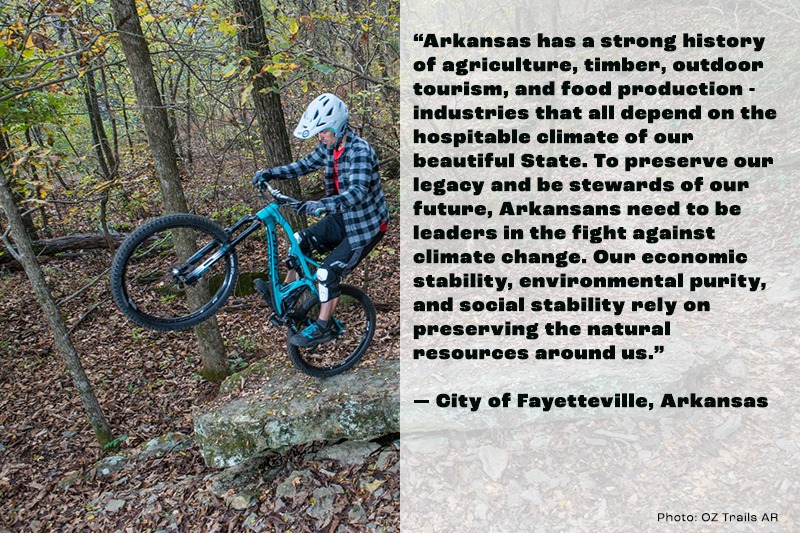 Luckily, Fayetteville acknowledges the current and potential side effects of a changing climate and has taken steps to mitigate them moving forward.
Reach a target of 100% clean energy for city operations by 2030
Reach 50% clean energy for city-wide usage by 2030, and 100% by 2050
Achieve a 40% reduction in GHG by 2030 and 80% reduction by 2050 based on 2010 levels
Adopt alternative fuel guidelines and/or targets for City of Fayetteville-owned vehicles.
Install public use electric vehicle fueling stations on city-owned properties 
Reduce vehicle miles traveled by 6% by 2030 and achieve a 25% bike/walk/transit mode share (percentage of people not traveling via single-occupancy vehicle) by 2030 through an increase in fuel efficiency and alternative fuel vehicles, expansion of alternative and active transportation options and land development and infrastructure plans to encourage trail use
In the next installment of our Paris for Dummies series, we'll dive into the financial impact climate change poses on the outdoor recreation economy, and how the goals of the Paris Agreement are far more cost-effective than looking the other way on climate.