The Power Of The Snowsports Community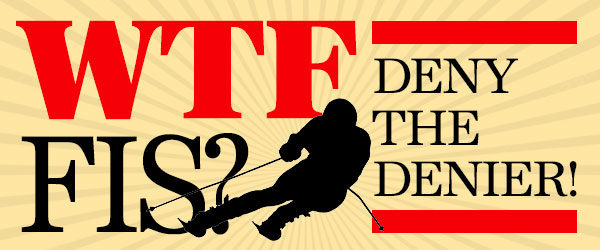 It's been a busy two weeks since International Ski Federation (FIS) president Gian Franco Kasper went on-the-record denying human-caused climate change and the science that supports it. We launched an open letter calling for his resignation and you stepped up and joined nearly 9,000 signatories. That takes guts. Thank you for voicing your values. Look how many letters we've sent so far: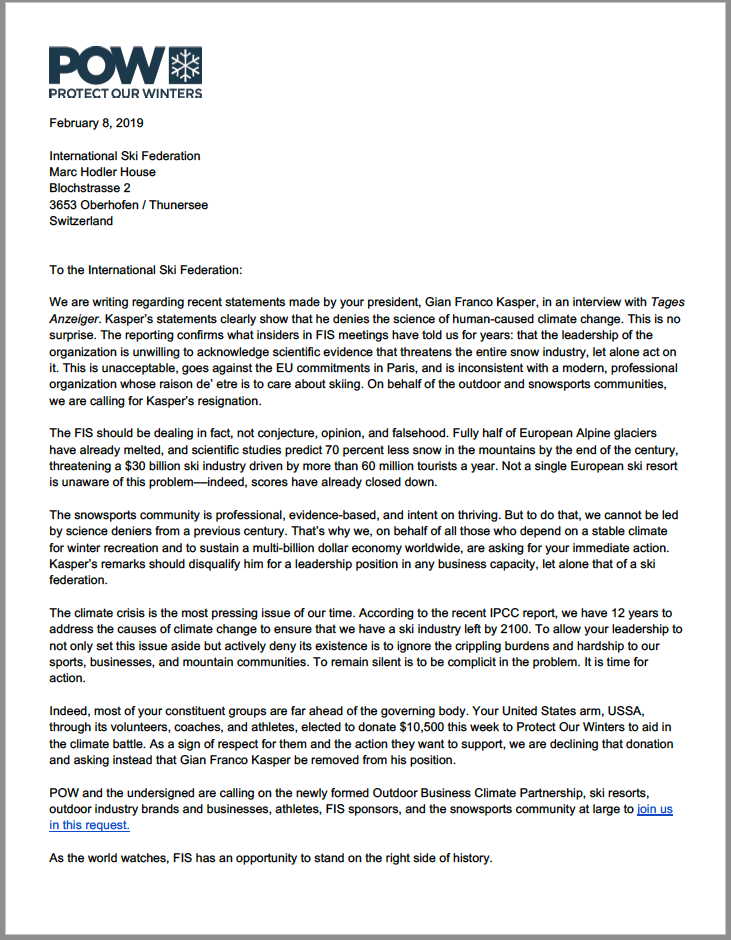 It's been just over a week since we launched this campaign, and Kasper not only remains at the helm of the FIS ship but has not backed off his comments on climate. Since then, however, more individuals and businesses have come out to tell FIS and any other leaders in the industry that we will not tolerate those who dismiss science to remain in positions of leadership. Here is what your efforts have helped us accomplish:
Brave brand partners from inside and outside the snowsports industry joined to support our efforts. We owe a huge thanks to Aspen Skiing Company, Burton, Patagonia, Clif, Jones Snowboards, Bemis, Alterra Mountain Company, 1% For The Planet and even the Northern Colorado chapter of 350.org for using their platforms to help get the word out. High fives all around!

POW's voice is amplified by the support we get from some of the world's best athletes. These individuals, who've built their careers in part by competing in FIS sanctioned events, have a lot at stake by calling out the organization. Yet, they have stood behind us and made very public statements condemning Kasper's remarks. Huge kudos to our Alliance members, Jamie Anderson, Jessie Diggins, Danny Davis, Maddie Phaneuf and all of the other athletes who have stepped up! Give them a follow to hear more of what they have to say.
The world noticed, since Friday, February 8th, the coverage of POW's open letter reached 200 million media impressions from across the globe: The Daily Mail in Great Britain, The New York Times, ESPN and even the Lahaina News in Hawaii!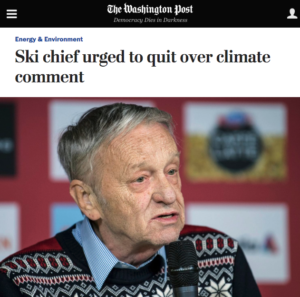 The Washington Post sheds some light on our campaign.

POW Alliance members Jamie Anderson, Jessie Diggins, and Sage Kostenburg spoke with ESPN.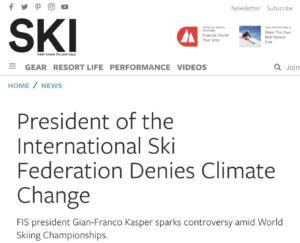 "Kasper's controversial comments surface as the FIS World Skiing Championships are taking place in Åre, Sweden. A number of FIS athletes competing in Åre have criticized Kasper's comments and joined the call for his resignation. Among them is Norwegian Aksel Lund Svindal, making his final professional racing appearances at the World Championships before entering retirement. "
These efforts found support from all around the globe. A special shout out to all of our allies and the hard working POW chapters across North America and Europe who helped to spread awareness within their communities and deliver thousands of letters to FIS.