An Antarctic Expedition to a Rapidly Melting Glacier
Back
Image by Ian Willis
From late October to early December 2022, I led a successful expedition to Antarctica, where we studied the effects of the Earth's warming climate on Antarctica's glacier ice. Our focus was on the north George VI Ice Shelf on the Antarctic Peninsula, which is a glacier that now experiences huge amounts of surface melting each summer, with hundreds of lakes visible from planes and satellites flying overhead. In fact, one of our recently published studies shows how this glacier experienced record melting during the 2019/2020 austral summer season compared to 31 previous summers of dramatically lower melt.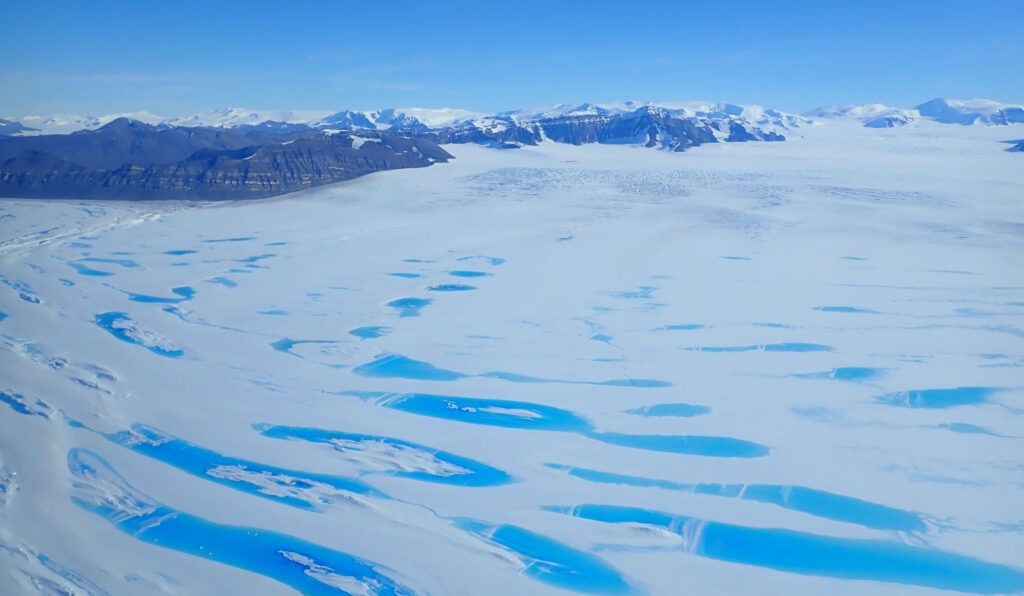 As well as being a member of POW's Science Alliance, I am a glaciologist and Research Scientist at the University of Colorado Boulder. My research focuses on Antarctica's ice shelves, which are floating extensions of the continent's glaciers on land. These ice shelves surround about 75% of the Antarctic Ice Sheet and are different from the sea ice that also surrounds Antarctica. Sea ice is frozen ocean (not glacier ice). Ice shelves are extremely important for Antarctica's ice sheet overall as they act to buttress (or 'hold back') the glacier ice on land. Without these ice shelves, glacier ice on land would flow more rapidly into the ocean and contribute to sea-level rise. The scary reality is that if the whole Antarctic Ice Sheet were to melt, it would contribute about 190 feet to global sea-level rise.
The Expedition
To get to Antarctica, we took a six-hour flight from Punta Arenas, Chile, to the British Antarctic Survey's (BAS) Rothera Research Station. After a week of science and field preparation at Rothera, including learning how to not kill ourselves driving our snowmobiles into crevasses, we then traveled 400km by a small Twin Otter plane into the icy continent where we would spend two weeks at the BAS Fossil Bluff hut (aka 'Bluebell Cottage') on the edge of the George VI Ice Shelf. As a team of four, including myself, fellow glaciologists Dr. Becky Dell, Dr. Ian Willis and our mountaineering guide Tom Sylvester, we commuted daily onto the ice shelf by snowmobiles. Our snowmobiles were roped together, in a similar way to how mountaineers rope together to walk across glaciated terrain, to avoid driving into crevasses. These drives were long (up to 1.5 hours each way), slow (to avoid driving over the linked ropes) and cold, which made for not-so-fun trips since I'm a glaciologist who happens to hate the cold! Since our expedition was at the beginning of the Southern Hemisphere summer, 24-hour daylight meant that we could have long days without the risk of getting benighted.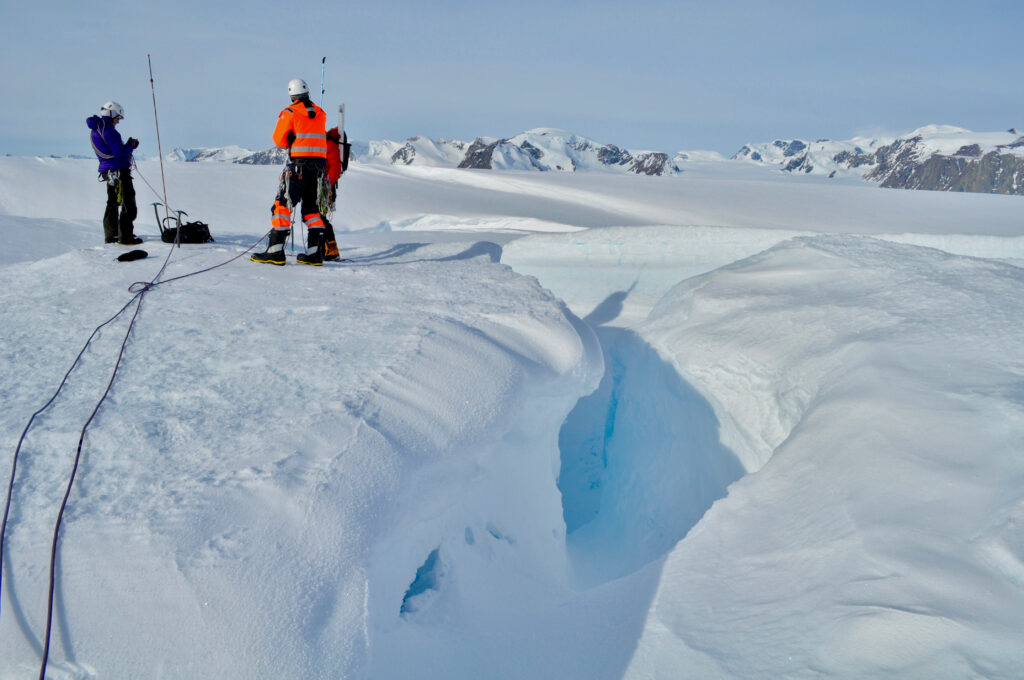 This was our third and final field season of this particular National Science Foundation (NSF) and UK Natural Environment Research Council (NERC) funded project, so the main goals of the expedition were to retrieve instruments and the stored measurements they had made since we installed them in November 2019. We managed to rescue high-precision GPS stations, water-level sensors, weather stations and time-lapse cameras. This year we also extracted ten meters-deep ice/snow cores using a novel 'hot ring corer'. We use these cores to look for dense layers of ice which were once liquid meltwater lakes on the ice-shelf surface, before being buried by later snowfall.
As always is the case with Antarctic fieldwork, the weather stopped our play on a number of days, with episodes of zero visibility and gale force winds. Despite these challenges, we accomplished everything we set out to do. Arriving back at Rothera Research Station after our flight had been cleared to land on a runway that was free of penguins, we enjoyed our first showers in two weeks. Although they can cause problems for air traffic control, it's always fun to meet these incredibly inquisitive and clumsy penguins who enjoy warming themselves on the snow-free runway, especially as our field site is too far from the ocean for any penguins (or any wildlife) to come to pay us visits.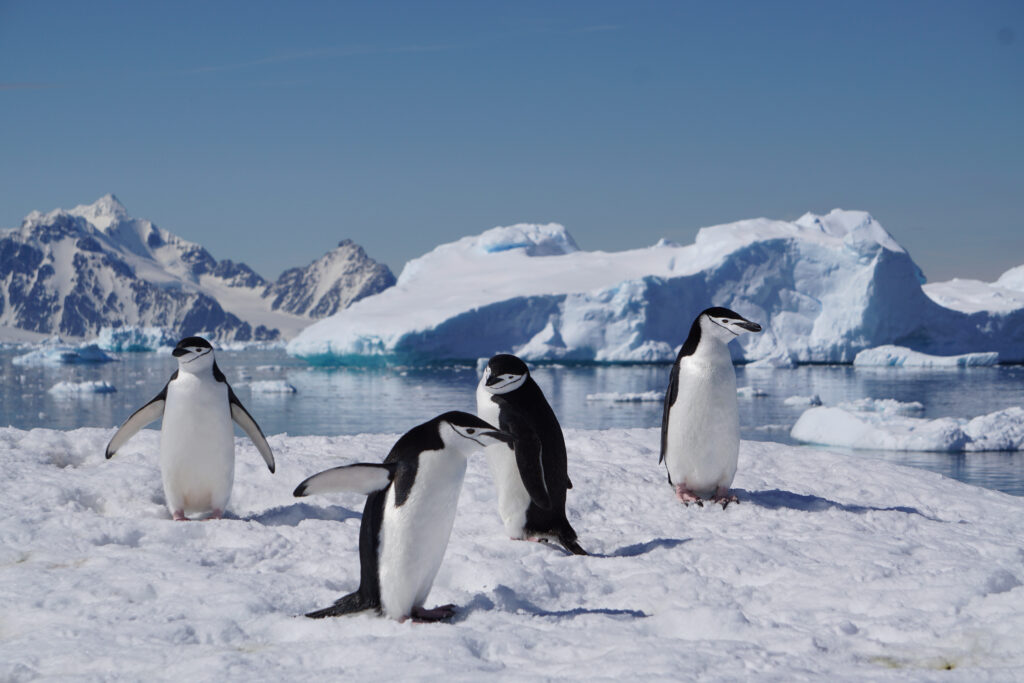 The Work isn't Finished When the Expedition Ends…
With help from other collaborators on our project, Dr. Doug MacAyeal and Dr. Laura Stevens, we now have a huge amount of field data to analyze in the coming weeks and months. Using a combination of these observations we collected and information from satellites monitoring the ice shelf from space, our goal is to establish the following: how much melting occurs across this ice shelf each summer, how much of that meltwater ponds up in surface lakes and how that ponding causes the floating ice shelf to bend and possibly crack under the weight of the meltwater. Through this process, these lakes can be very dangerous to the Antarctic's floating ice shelves. For example, our previous work has shown how the drainage of over 2000 lakes may have triggered the 2002 collapse of Antarctica's Larsen B Ice Shelf causing an area of the ice shelf the size of Rhode Island broke up over just a few weeks.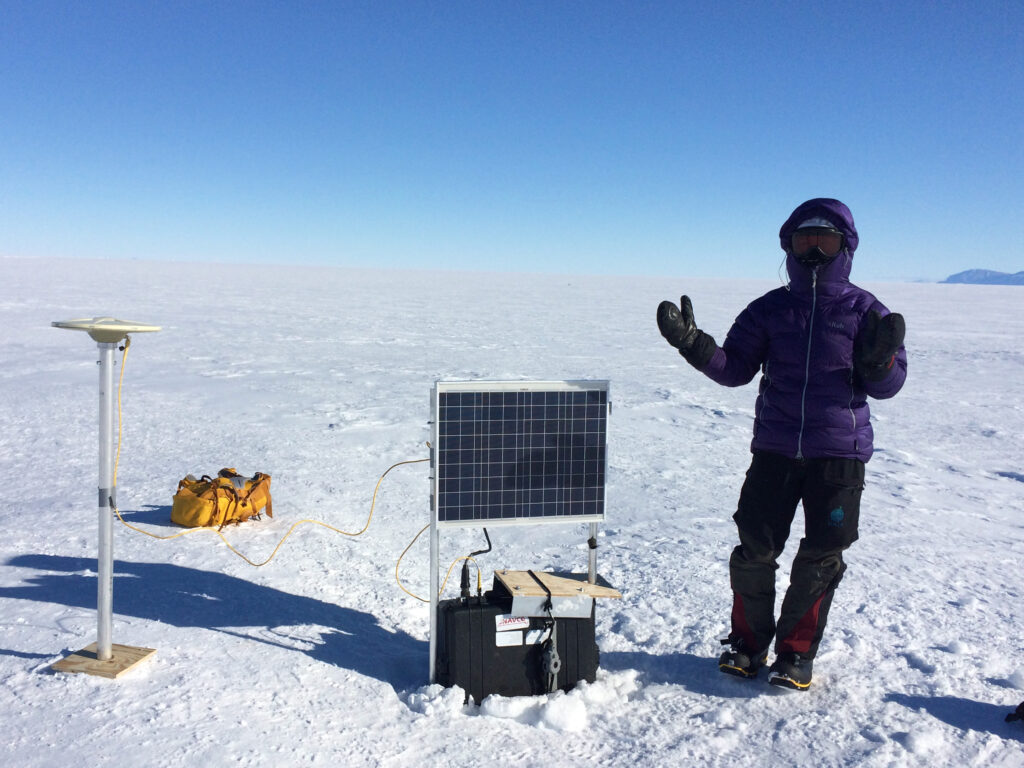 As atmospheric temperatures continue to rise due to a changing climate, melting around Antarctica's periphery is also due to increase which will likely cause ice-shelf break-up events to become more frequent. This ultimately means that Antarctic ice will contribute more to global sea-level rise in the coming decades and centuries. The best predictions are that sea levels will rise one to three feet within the next 100 years; an alarming fact considering that three feet of sea level rise has the potential to displace 100 million people living in coastal areas.
Why I joined the POW Science Alliance!
I joined the POW Science Alliance because I find it frustrating to study the impacts of climate change on the Earth, specifically to see the speed at which warming temperatures are melting the Earth's glacier ice, and to see policy trending toward apathy, not action. Through my involvement with POW, I believe we can accomplish more together as a team by advocating on behalf of the climate. By providing climate-related facts to POW, my hope is also that the POW community will be able to better understand and communicate scientific information to their peers.
---
How Can You Help?
How can you help advocate to help protect these beautiful, yet fragile landscapes like Antarctica's ice shelves? Joining Team POW is a great place to start! When you join Team POW, you'll be claiming your place in a bold community that is committed to turning its passion for the outdoors into impact. Not only will you be helping POW advance policy initiatives, but you'll also gain rad perks like exclusive access to educational opportunities so you can learn how to leverage your voice, discounts on all POW merch, discounts from brand partners, opportunities to win a trip to the POW Leadership Summit and more.
---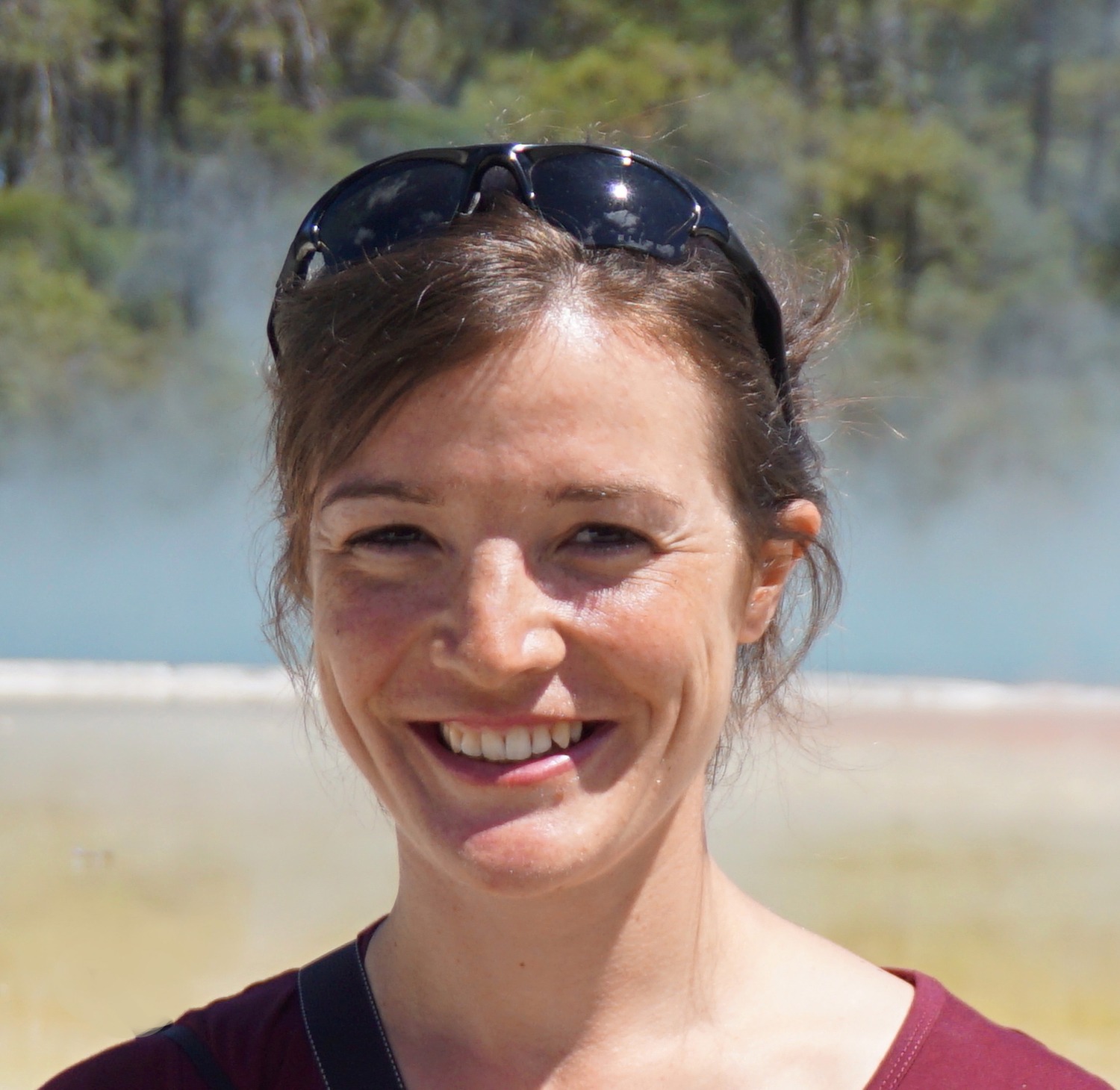 Author: Dr. Alison Banwell
Alison Banwell is a glacier scientist ("glaciologist") currently living in Boulder Colorado, but is originally from England UK. She moved to the the United States in 2018 for a job as a Research Scientist at the University of Colorado Boulder. Banwell spends a couple of months each year doing fieldwork in Antarctica and/or Greenland to […]