VICTORY! EPA RULES IN FAVOR OF CLEAN AIR!
We're proud to announce that the EPA has listened to over 250 outdoor sports businesses and pro athletes who joined our campaign to urge the EPA to require pollution controls on two of the west's dirtiest coal plants, causing haze pollution in some of the most iconic national parks and wilderness areas in CO, UT and AZ.  Thank you to The Sierra Club for leading this effort with us and to all those that took part in it.
DENVER – The U.S. Environmental Protection agency has ruled in favor of clean air across a vast swath of Western land, adopting a plan that ensures national parks and wilderness areas in Utah, Colorado, and Arizona are protected from dangerous haze pollution for generations to come.
The decision requires Utah's Hunter and Huntington coal-fired power plants, among the West's oldest and dirtiest, to install industry-standard pollution control mechanisms, which will protect families and businesses in the three-state region.
More than 250 outdoor recreation businesses and outdoor leaders from Utah, Colorado, and Arizona have urged the EPA to take strong action to protect our parks, which are vital to the West's growing outdoor-recreation economy. Altogether, these three states represent nearly $36 billion, or 6 percent, of the nation's $646 billion outdoor-recreation economy.
"Today the EPA showed that it listened to businesses and citizens across the West," says Chris Steinkamp, executive director of the global climate-advocacy organization Protect Our Winters. "By requiring strong pollution reductions for Utah's Hunter and Huntington coal-fired power plants, the EPA is defending our public lands and communities in Utah, Colorado, Arizona, and beyond.
More than 85,000 comments and petitions were delivered to the EPA in favor of the Clean Parks Plan, which makes meaningful reductions in coal pollution from the Hunter and Huntington coal-fired power plants.
"DPS Skis would like to thank the EPA for its decision today," says Stephan Drake, founder and CEO of Salt Lake City's DPS Skis. "By requiring these two old, dirty coal plants to clean up, the EPA is investing in the future of outdoor recreation in the West, and the families and communities it supports."
"On behalf of Scarpa North America, I commend the EPA for stepping up to protect the outdoor-recreation economy and communities across the West," says Kim Miller, CEO of Scarpa North America in Boulder, Colorado. "Today's decision to require pollution reductions at Utah's Hunter and Huntington plants indicates that the agency understands the vital importance of clean, breathable air to the business of outdoor recreation."
"Kahtoola is one of many businesses in Arizona and across the West that are celebrating today's EPA decision," saysDanny Giovale, founder and president of Kahtoola, Inc, in Flagstaff, Arizona. "Pollution knows no boundaries, as we've seen in Arizona and our outdoor-industry colleagues have seen in Utah and Colorado. By cleaning up these dangerous emissions, the EPA is creating a healthier future for Western families and businesses.
The plan adopted by the EPA, dubbed the Clean Parks Plan, will result in meaningful reductions in coal pollution that threatens our iconic landscapes and public lands in places like Arches and Canyonlands, and as far away as Arizona's Grand Canyon and Mesa Verde in Colorado, while providing critical support to the communities and businesses that depend on them.
"The EPA did well today," says professional skier and Utah resident Angel Collinson. "You can't place a value on views or safely breathable air. By requiring stronger controls at these plants, the EPA is not only protecting everyone who lives and does business in Utah and across the West, but also Utah's invaluable identity as one of the most scenic places in the world."
The Hunter and Huntington coal-fired power plants are responsible for 40% of all of our state's dangerous haze-causing nitrogen oxide pollution from the electricity sector. According to the Clean Air Task Force, pollution from the plants contributes to 11 premature deaths and 233 asthma attacks every year.
The National Park Service estimates that views at Arches and Canyonlands are shrouded in haze 83 percent of the time, and coal pollution is a major contributor. In 2014, more than 10 million visitors from around the world visited Utah's national parks and added $730 million dollars to Utah's economy. The tourism industry supports about 132,000 jobs, or about one out of every ten jobs in the state.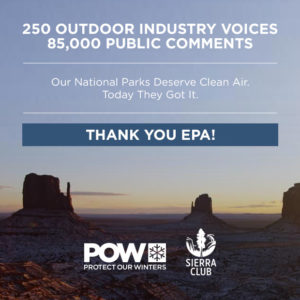 SOCIAL MEDIA SHARE:
If you'd like to share this news on social media to thank the EPA, save the above image to use, and below is some sample copy:
Sample FB/Instagram: Today, the @EPA ruled in favor of clean air in our national parks, and a stable climate for future generations by requiring pollution controls be installed on two of the west's oldest and dirtiest coal fired power plants – reducing haze in our national parks and wilderness areas and moving us all towards a clean energy future. Thank you to the EPA for protecting clean air in the west! @protectourwinters