Kate Courtney is more than a world champion mountain biker. She's a climate advocate too.
Back
Photo by Bartek Wolinski
Kate Courtney is a professional mountain biker and POW Bike Alliance member with an impressive resume, including a two-time Elite XCO World Cup Champion and Olympian just to name a few. Training and recreating across different regions of the United States and world has given Courtney a front row seat to watching the landscapes she loves change due to warming temperatures and the subsequent wildfires and droughts. Coming face to face with these realities has made climate advocacy a top priority for Courtney. But like many of us, dropping into this work was overwhelming initially, and her climate advocacy journey has been an evolving one. Courtney caught up with POW to share more about her favorite outdoor playgrounds, how she connects with the outdoors and integrates climate advocacy work into her own life and professional career.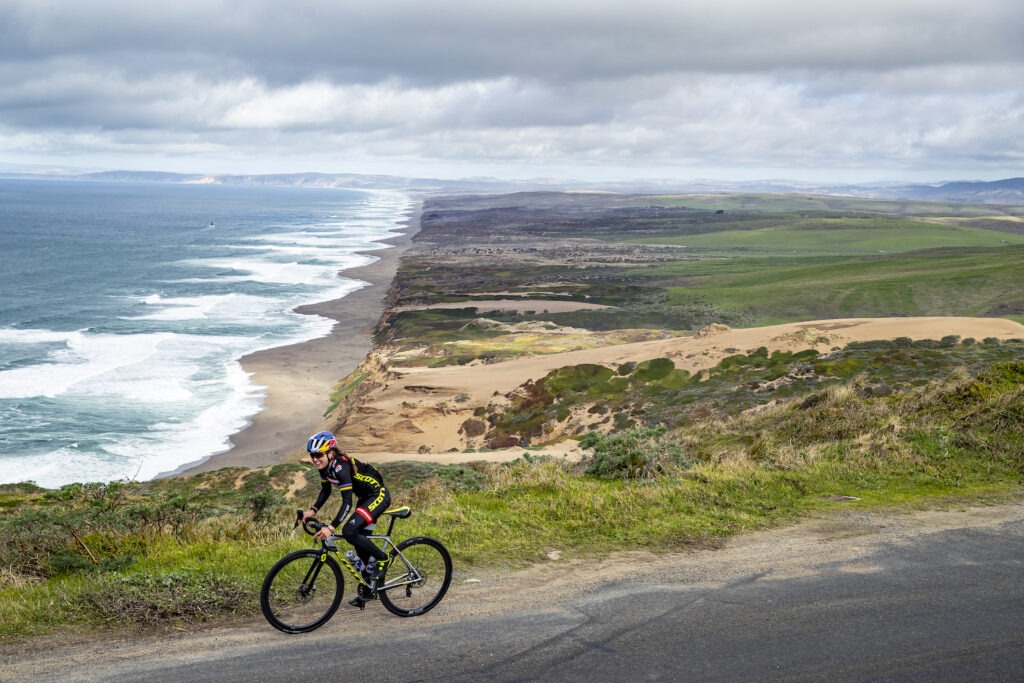 What is your favorite outdoor playground?
Riding my bike is my favorite outdoor activity and my favorite spot to ride is at home. I grew up at the base of Mount Tamalpais in Marin County, California. I love going home, and to the place where I discovered the sport and fell in love with it. It's always a really special experience to go back. It reconnects me with those early feelings of riding my bike. Going home also helps me appreciate my progress because I can go faster, farther and ride more technical things than I could have when I started.
Why did you want to get involved with POW?
I started as a ski racer, so I was aware of POW on the snowsports side of things. But in recent years, as a professional mountain bike racer, I've seen so much change in the environment and it's something that I started to come face to face with while being in the places that I ride and love to explore, especially living in California with the wildfires. Climate advocacy has become a huge priority for me and something that I wanted to get involved in, and Protect Our Winters provides an amazing way to do that.
One of the other aspects of it is, I have been impacted by POW in terms of my behavior. It's embarrassing to say, but this year was the first time I've voted in the November midterm elections. I voted in the main elections, but with midterms, I just missed the date or I was in college and I didn't understand the importance of them. It's about not only making that decision for myself but also engaging with other people around voting and having conversations on bike rides and hikes about what's important to us. How do we use our voices not only individually but also collectively with people that share our values and our interests to make a difference? Seeing that impact on me and the fact that my voting has impacted some of my friends who are now voting, it's made me want to get involved at a higher level and encourage more of this collective action in my community.
How do you use your platform as a professional mountain biker to help educate others on climate advocacy and get involved?
Having a platform as an athlete is a huge responsibility. It's an opportunity to inspire others and encourage engagement with some of the things I care most about. I think things like mountain biking and skiing makes everyone's lives better. Especially for young kids in this digital world. Getting out, being active and appreciating the spaces where we get to play and explore is a huge part of being a healthy, happy person. I also think with that comes great responsibility and I hope to use my platform to show both sides of that. I want to show the climate-related impact threat to that space, the importance of taking action and being thoughtful about the way that we engage with the outdoors. I also want to show the positive side and how fun it is to get out on your mountain bike, get out and ski and have access to these places. For me, that's changed the conversation around climate change, where it morphed from a negative conversation that was scary, to a proactive one around protecting and taking action for the places that we love and get to enjoy.
You've had the opportunity to travel to a lot of places for competitions and training. What type of climate-related impacts have you noticed either while traveling or in your backyard?
In my own backyard in California, there is the fire risk which has become a huge issue, especially as an endurance athlete who spends a lot of time outdoors. The impact on trails, the environment and the people living in those areas is catastrophic.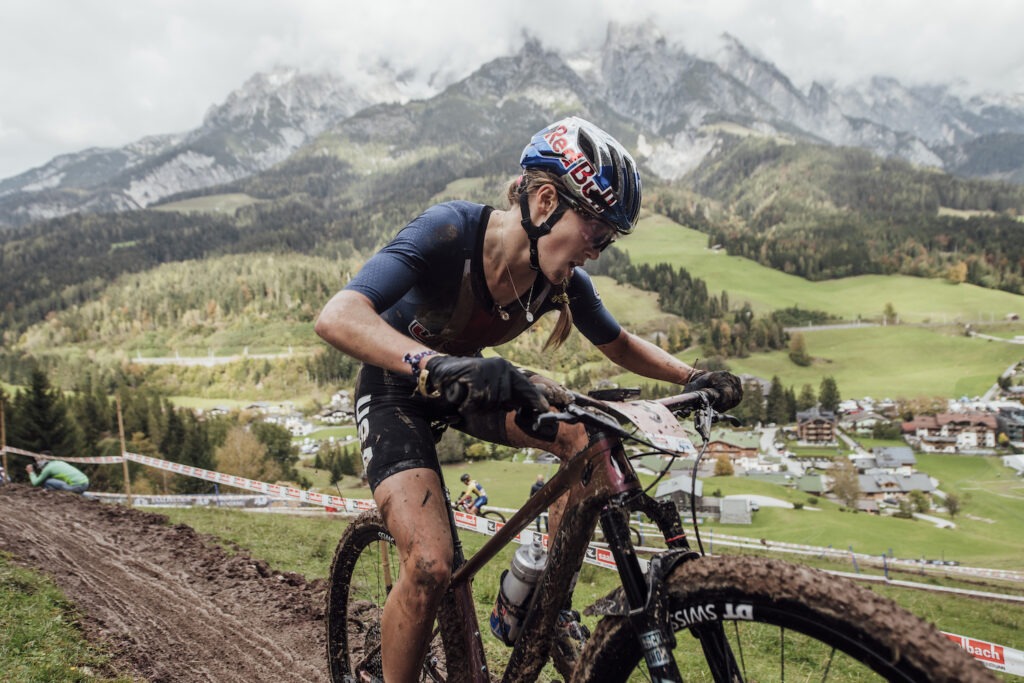 I think there are more subtle things as well that we may not notice right away. One of the most impactful experiences I had this past season was while training in the Engadin region of Switzerland. I went for this huge adventure ride with my team manager, Thomas Frischknecht, who has been going there for 30 years. If I was just riding by myself, I probably would never notice the differences that he pointed out to me. We rode past this big glacial lake that used to be full of water and they have a document of where the glacier has been each year and it's almost nonexistent now. That was shocking to me, but it also showed me the importance of paying attention. A lot of these people in the outdoor communities are calling attention to this because they spend a lot of time in these places and notice these impacts that you may not not see otherwise. You start seeing the micro changes that begin subtly and then can be catastrophic. That was impactful for me because if I was visiting one time by myself I probably wouldn't have noticed anything. I would have just thought it was a dry summer.
Have you had to change the way you train or get outside?
The biggest change for me is actually on the snow side. I grew up ski racing and I love skiing.  I like to do a little bit of cross-training in the snow. Cross-country skiing and backcountry touring have been great ways to train, but also to just take a mental break in the winter. I love that it's different from what I do day in, and day out while training for the biking season. But there's only a certain window of the year that I can do that around the holidays. I usually take two weeks in Tahoe and ski, cross-train, and reinvigorate my love for the outdoors by doing something different. In the past five years, there have been quite a few winters where that was not possible because there was just no snow. I've noticed winter coming later and later because my ski season is very fixed. If there's no snow, it means I don't get a ski season, which is sad and I think is something that has marked the change for me.
What advice or encouragement would you give to someone who wants to get involved in climate advocacy but doesn't know where to start?
I think I'm just starting in many ways, but the way I have thought about this is like a goal in your sport. It's something where you set it out on the horizon and you find small ways to work towards it. I think those quiet moments where you make decisions that maybe no one else knows about are important. Continuing to prioritize advocacy work and engage with it can make a difference over the long run, even if those little pivot points feel small.
What makes you most excited about being on POW Bike?
I've been searching for a way to talk about these issues and be involved for a long time. I feel inspired by the community that POW has brought together and by the impact that group can have when united around a common goal. For me, it's just getting in the draft of that group and finding ways to contribute.
---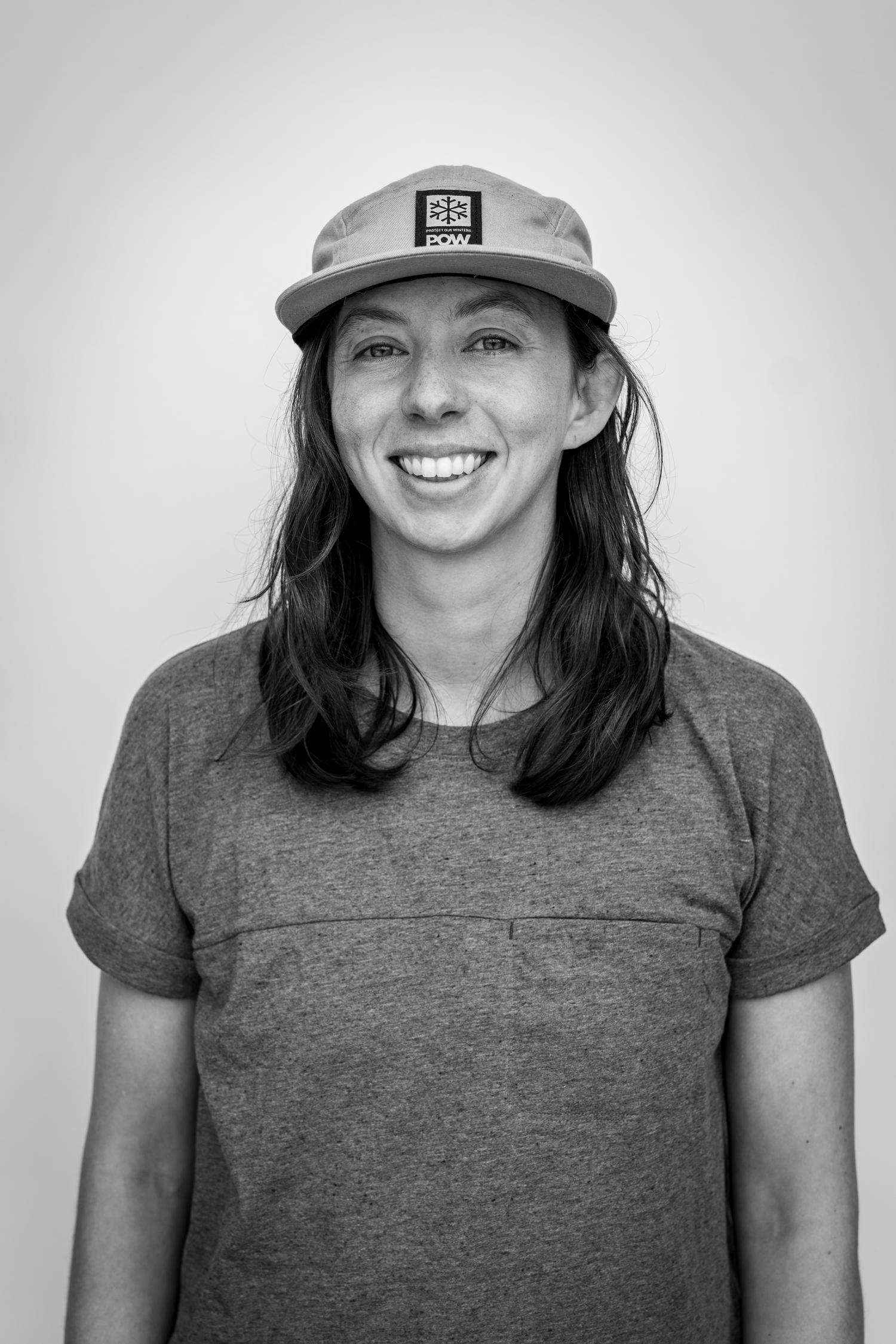 Author: Stacie Sullivan
Stacie always knew she wanted to pursue a career in the ski industry from a young age, having first clicked into skis at the age of 4 and writing her 8th grade career project on being a professional skier. While her dreams of becoming a professional athlete didn't quite pan out the way she planned at […]