New Actions on Oil & Gas Leases Marks a Win for America's Arctic
Back
Photo by Nate Luebbe
The Arctic National Wildlife Refuge is one of Earth's most breathtaking landscapes, home to herds of migrating caribou, awe-inspiring mountain ranges and critical Arctic Tundra habitat, important to both wildlife and the American people in the face of a warming Arctic. Average Arctic temperatures are rising twice as fast as the rest of the planet threatening Alaskan communities, Tribal lands, waters and wildlife. Despite this, the fate of the landscape has been uncertain, while companies have continually sought access to oil and gas leases in the Refuge since 1977. POW has been advocating to protect the Arctic National Wildlife Refuge since 2017 when the Tax Cuts and Jobs Act opened the Refuge to drilling. Since then, it's been an uphill climb to stop forward momentum of oil and gas development in the Refuge.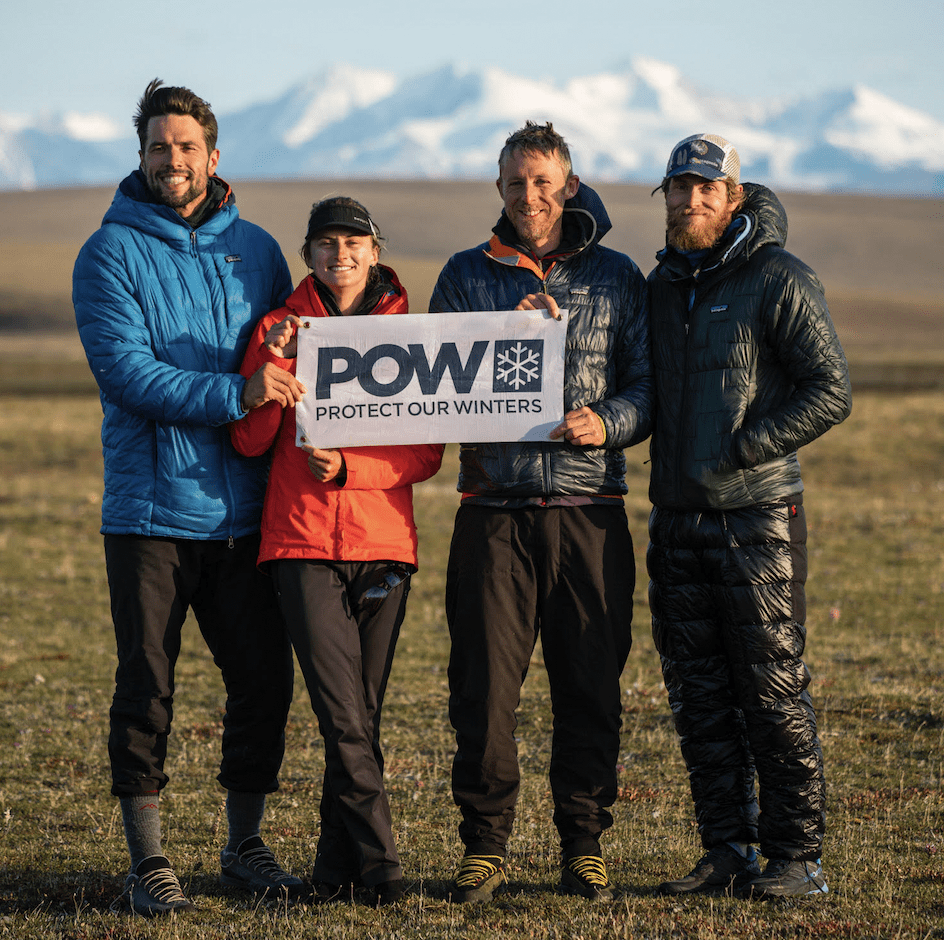 But last week, we were finally able to celebrate some good news when the Biden Administration announced a suite of actions aimed to protect the Arctic National Wildlife Refuge and lands within the National Petroleum Reserve-Alaska. This announcement seeks to cancel the remaining oil and gas leases in the Arctic National Wildlife Refuge, marking a huge win for climate, our public lands and the Gwich'in people who call this place home. While the effort to permanently protect the Arctic will continue for years to come, announcements like this are important milestones, and deserve recognition and celebration. Thanks to your advocacy, and the advocacy of thousands more people like you, the Arctic is one step closer to permanent protection.
"Protecting the Arctic Refuge is not only important for the local impacts of protecting caribou, migrating birds, moose, fish and thousands of other species that Gwich'in and other people living in the Arctic have deep connections with, but also for all of Earth," said professional trail runner and POW Athlete Alliance Clare Gallagher. There's value in protecting this biodiverse ecosystem from oil and gas exploration — a prospect that consistently shows little promise."
This is a win we would not be able to celebrate without the ongoing leadership of our partners, like the Alaska Wilderness League, and the steadfast advocacy of our Alliance members and Brand Alliance partners who joined us on Capitol Hill to lobby for the Arctic's protection, wrote op-eds and used their platforms to get the word out. But this work also wouldn't have been possible without the more than 12,000 of YOU who wrote letters to the White House asking them to take action and cancel drilling in these fragile landscapes. Alone, each message might not make much of a difference, but together, our community stood with a nationwide network of advocates and activists to help make this happen. For that, we're proud, and are grateful for your contribution to the effort.
While we take a moment to celebrate, let's take a look back at the work POW and our Alliance members have done over the years advocating for the Arctic:

2018

In late 2017, Congress voted to open up the Arctic National Wildlife Refuge to drilling putting one of the most remote and pristine landscapes our planet has left at risk. POW joined the Bureau of Land Management's comment period to speak up about the risks of drilling in the Arctic and how the fight to protect our public lands goes hand in hand with the fight for a stable climate. Public lands can be part of the climate solution, but policies which develop public lands for oil and gas development are part of the problem.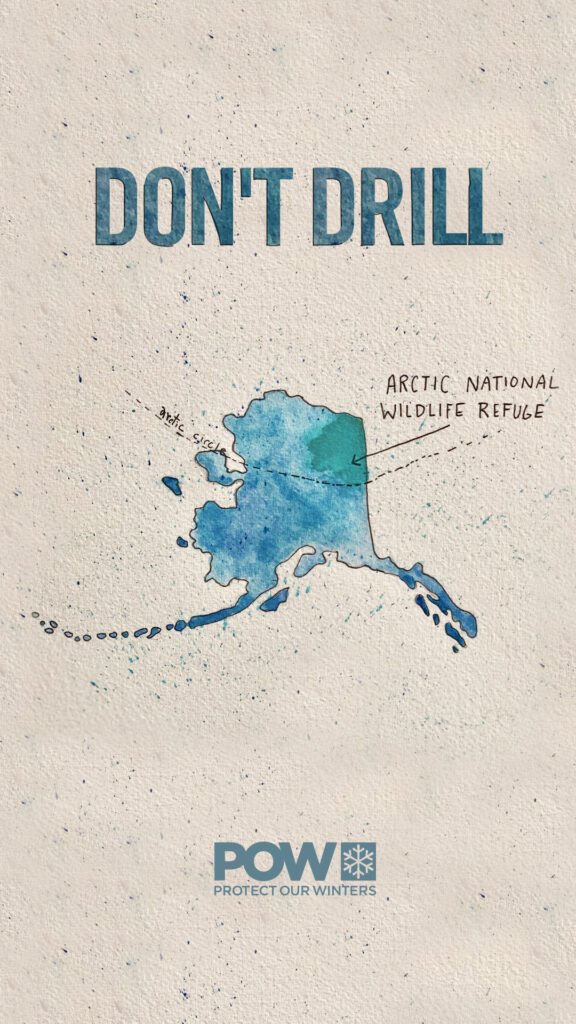 2019
In May 2019, POW ventured to Washington D.C. with Alliance members, including Callan Chythlook-Sifsof, Brennan Lagasse, Zeppelin Zeerip, James Q Martin, Forest Woodward and Canyon Woodward where we paddled on the Potomac with Alpacka rafts. We were there alongside our longstanding friends and partners at The Alaska Wilderness League bringing leaders from the outdoor community to talk with lawmakers about the importance of voting yes on the Arctic Cultural and Coastal Plain Protection Act.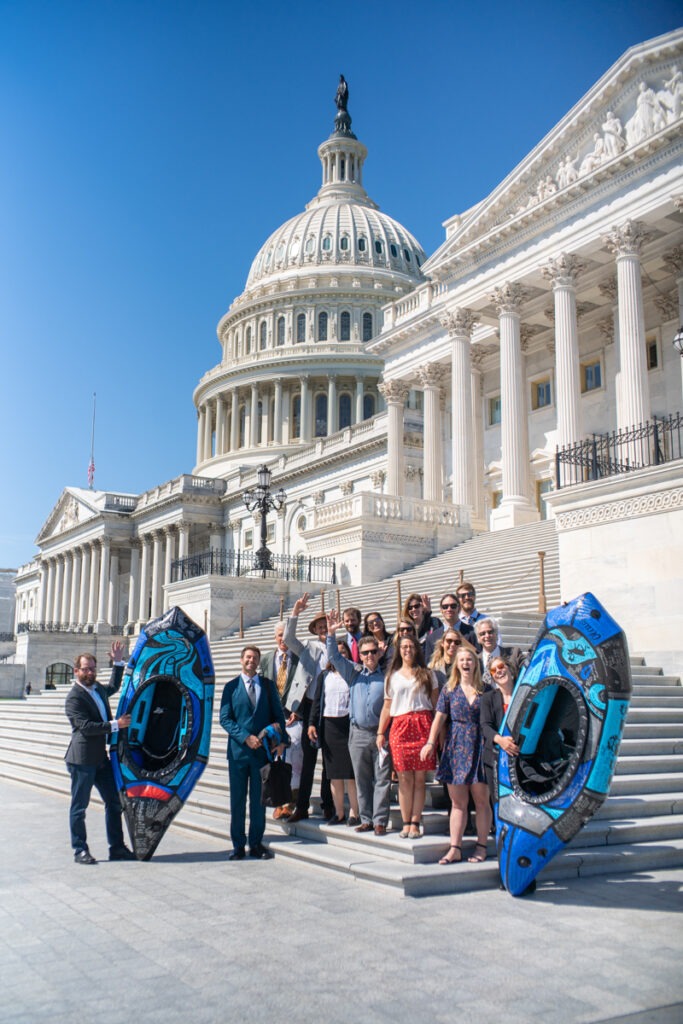 Images by Forest Woodward
Later that year, our sister organization, POW Action Fund hit Capitol Hill to urge lawmakers to protect our public lands where Hilaree Nelson spoke at a press conference. POW testified in support of HR 1146, The Arctic Cultural and Coastal Plan Protection Act. This was a massive effort from a large community, and the POW team was excited to be in Washington D.C. when the legislation passed the house.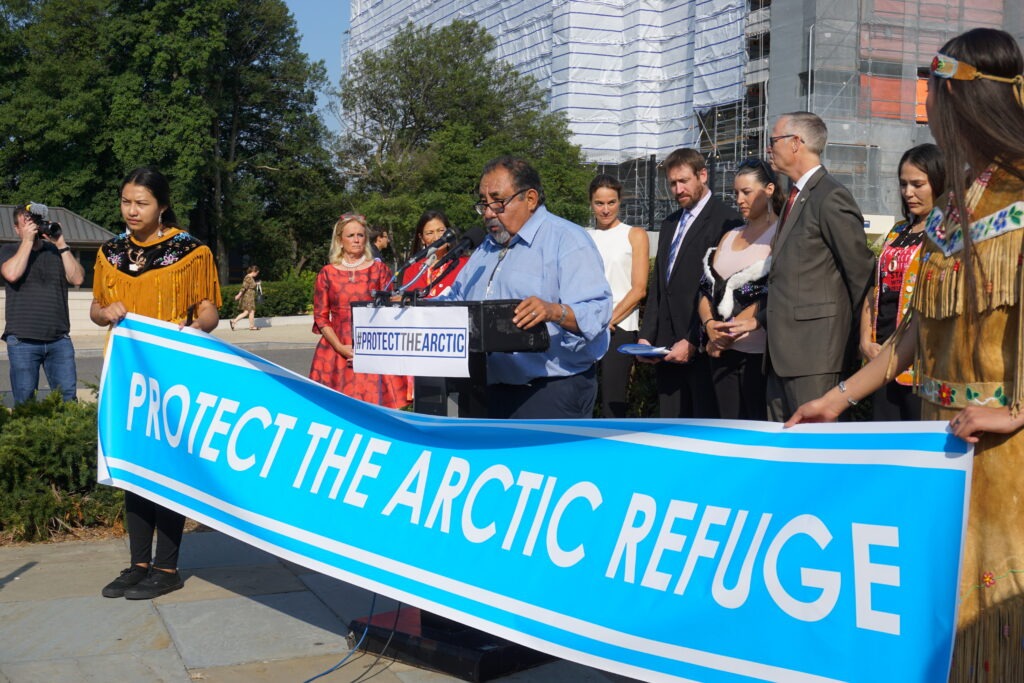 2021
In April 2021, POW Action Fund brought a team of Olympians to Washington D.C, including David Wise, Troy Murphy, Jessie Diggins, Wiley Maple, Gus Schumacher, Jared Schumate, Kaitlyn Farrington and Joe Pleban for a federal Lobby Day to meet with one of President Biden's top climate advisors, Ali Zaidi and the Department of the Interior. The primary ask was to cancel oil and gas leasing in the Arctic. Just two weeks after those meetings, the Biden Administration Canceled Drilling Sales in Alaska and the Gulf of Mexico.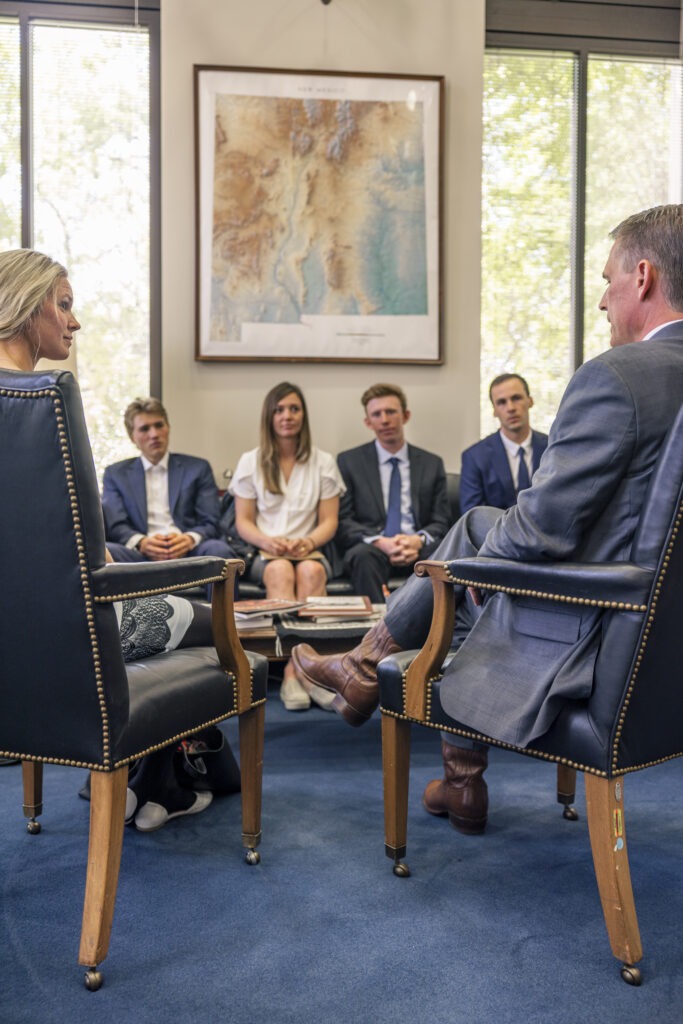 Why this Work is Important
Since the Alaskan National Wildlife Refuge was created in 1980, communities of conservationists have been fighting to keep these critical public lands protected. The area is home to herds of porcupine caribou, wolf packs, polar bears and migratory birds. Drilling for oil and gas here—and creating the massive industrial infrastructure required to produce and transport oil and gas—would devastate the refuge's fragile ecosystem which is already feeling the effects of warming due to climate change. It not only would disrupt wildlife, but the consequences to our climate, and communities which depend on the Arctic as-is, would be devastating.
20% of the nation's carbon emissions are connected to our public lands. Ensuring the permanent protection of the 19-million-acre Refuge can be a catalyst for preventing these areas from contributing to climate change, in addition to helping the Gwich'in people who rely on this ecosystem as a food source and for their cultural heritage.
Since 2010, Professional skier and POW Athlete Alliance member Kit DesLauriers has been studying the ecosystem and snowpack in the Arctic and the impacts it would see if it were to be open to drilling. Her film, Beyond the Summit which was released last year in partnership with The North Face follows her journey through the Arctic and it paints the picture of just how vulnerable and special this ecosystem is.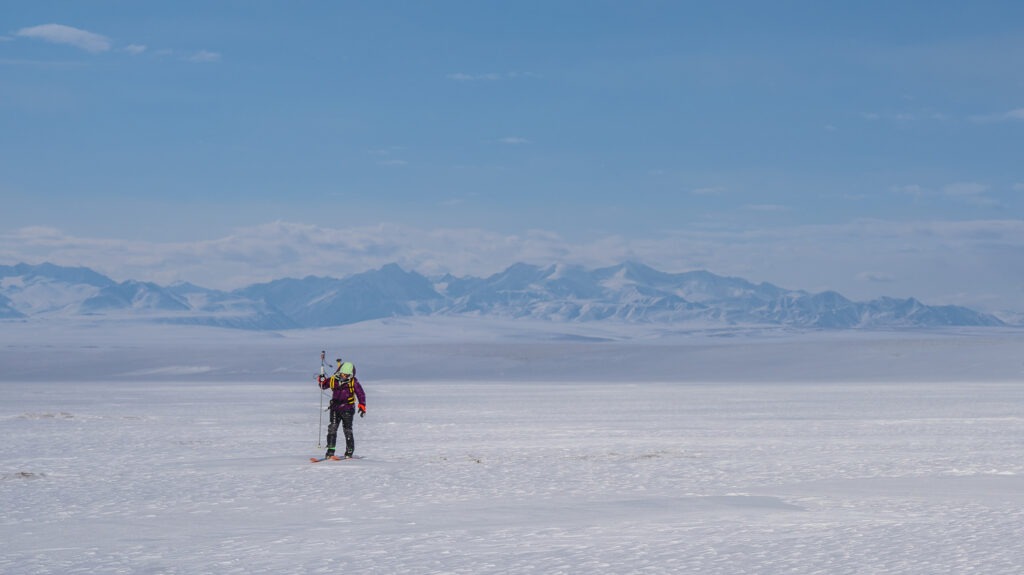 "I've seen enough to know that this ecosystem is worthy of protection and none of its inhabitants recognize the arbitrary boundary of the wilderness vs. coastal plain designation because they use it all as one," said Kit DesLauriers. "It's not as much about the climate as it is about justice: social justice for the people who live nearby in harmony with the land and environmental justice for the sake of it."
The goal of her work was to take snowpack measurements to contribute to scientific efforts to help protect this region. The Bureau of Land Management (BLM) has a nine-inch minimum snow depth coverage in the winter months in order for the land underneath to be protected from industry activity. Most of what DesLauriers' found was that the average snow depth is actually much less than the BLM's nine-inch minimum. The goal of this work is to establish protections for this rugged, yet vulnerable ecosystem, and thanks to DesLaurier's work we are now one step closer.
What's Next for POW
Climate solutions don't always have to be so complicated. Public lands can be part of climate solutions, and perhaps, the largest impact we can have on our public lands contribution to climate change, is to help permanently protect the Arctic. This news is just one milestone on our journey and there is still a mountain of work to be done. It's crucial that we continue to push for permanent protections of the Arctic Refuge, and POW is committed to seeing this through.
"Working on protecting the Arctic is important to me because it's near my home and it's one of the places that's seeing the most dramatic impacts from the climate crisis," said professional Nordic skier, Olympian and POW Athlete Alliance member, Gus Shumacher. "I also think that protecting such a remote and fragile place is a key message that we care about our truly wild lands."
Do you want to be a part of the solution and help POW continue to protect the Arctic? Sign up for our e-newsletter and we'll keep you updated on recent news, as well as let you know when it's time to take action and provide you with the resources to contact lawmakers.
---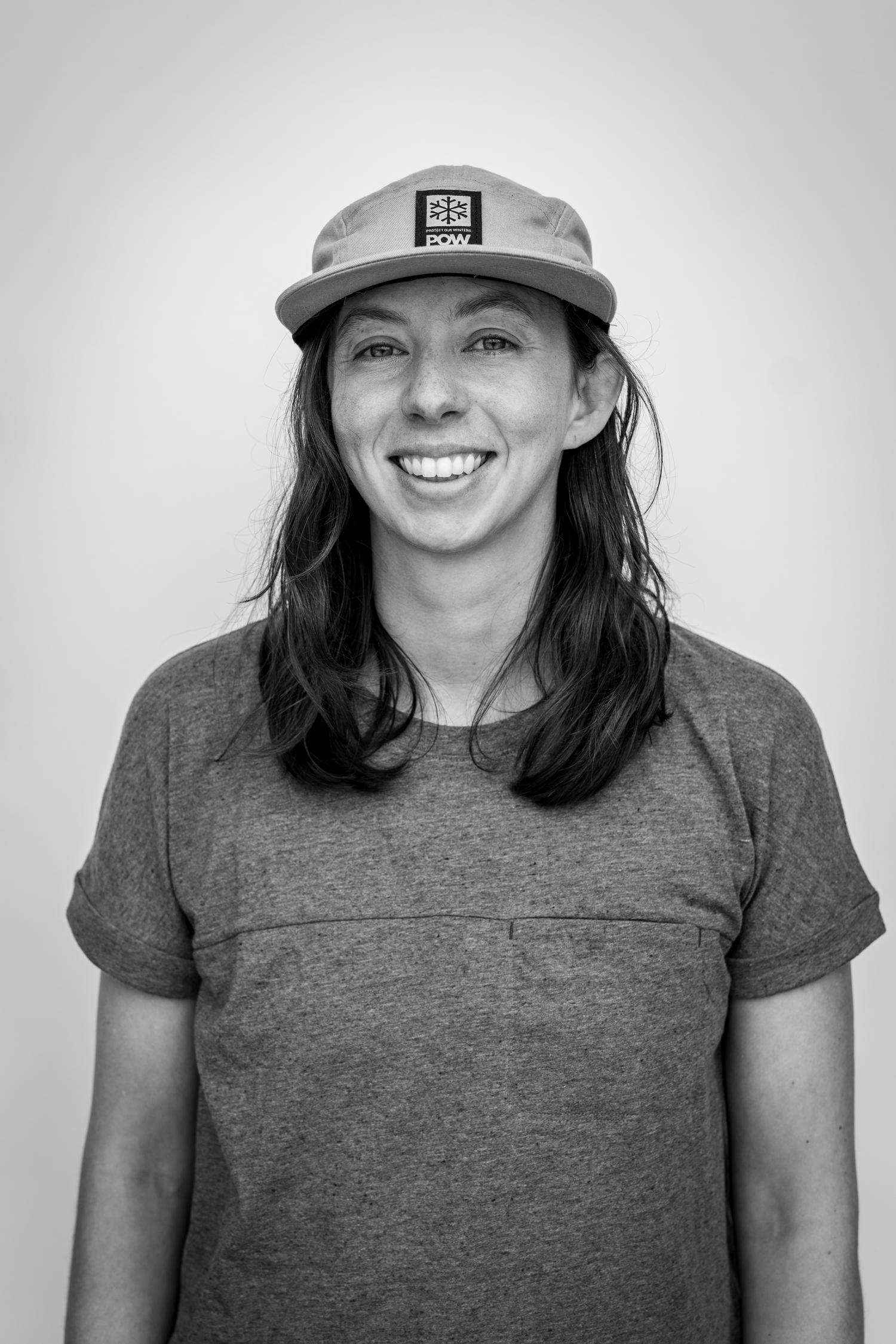 Author: Stacie Sullivan
Stacie always knew she wanted to pursue a career in the ski industry from a young age, having first clicked into skis at the age of 4 and writing her 8th grade career project on being a professional skier. While her dreams of becoming a professional athlete didn't quite pan out the way she planned at […]