POW Action Fund & POW Alliance Members Climb Capitol Hill for Lobby Day
Back

Photos by Elyse Cosgrove
On June 16 and 17, POW Alliance Members along with POW Action Fund, tackled one of the most challenging ascents out there —Capitol Hill— to lobby for climate action on behalf of the Outdoor State. Eighteen outdoor community leaders attended 20 meetings with lawmakers and administrators from both sides of the aisle to advocate for Federal action to protect the outdoor spaces our communities depend on. Key talking points included advocating for energy security, jobs and a clean energy future.
During the meetings, POW Action Fund advocated for the following:
Support for H.R. 2406/ S.1016, the Electric Power Infrastructure Improvement Act. This bill will allow a tax credit through 2031 for investment in qualifying electric power, transmission line property and directly benefit 22 large-scale transmission projects across the country. Additionally, this bill would support more than 500,000 jobs, improve the resilience of the grid and support new projects that connect modern renewable energy resources to the power demands of regional consumer markets.
Funding programs that focus on reducing emissions like the Greenhouse Gas Reduction Fund and Climate Pollution Reduction Grants.
Updating the electric grid to support 100% carbon-free electricity by funding projects that upgrade transmission lines and intertie incentives.
Supporting electric vehicles and electric vehicle infrastructure by making investments in rebates.
Supporting worker transition by assisting communities with programs like energy community reinvestment finance.
Stop drilling in the Arctic, specifically, stopping the Willow Project from moving forward in the National Petroleum Reserve in Alaska.
Additionally, POW Action Fund awarded its annual Friend of the Outdoor State award to members of Congress who demonstrate exceptional leadership toward POW Action Fund's priorities in Congress and in the outdoor recreation community. Recipients included Senator Michael Bennet (D-CO), Senator Catherine Cortez-Mastro (D-NV) and Rep John Curits (R-UT).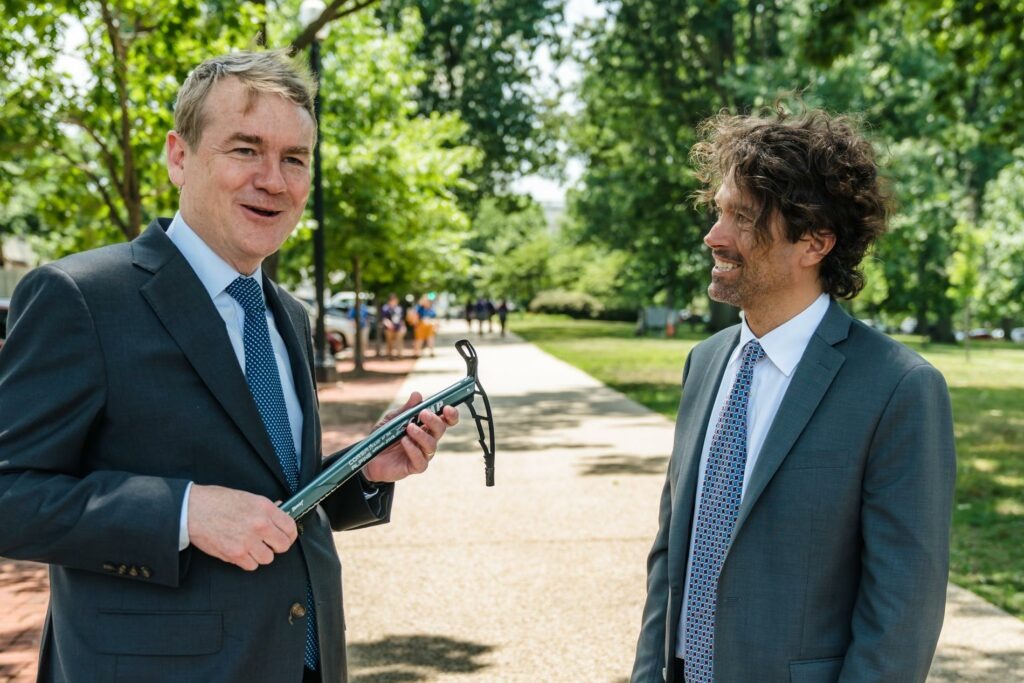 While having these conversations isn't always easy, our community understands the importance of standing up and speaking out for the lifestyles and communities that we love. These meetings help us foster a collaborative working relationship with lawmakers through a common love for the outdoors. Our team left Capitol Hill feeling excited and energized as we head into midterm elections and we're stoked to see what milestones come next.
Special thanks to all of our Alliance Members and Brand Partners who attended:
Massimo Alpian, Cannondale
Nate Bender, POW Trail
Taylor Boyd, Fat Tire
Elyse Cosgrove, POW Creative Alliance
Brendan Davis, POW Creative Alliance
Stacey Hutchinson, POWDR Corp
Jeremy Jones, POW Founder
Tucker Kimball, Orvis
Mike King, POW Ski
Brody Leven, POW Ski Team Captain
Matt Lieto, POW Bike
Len Necefer, Native Outdoors
Dillon Osleger, POW Bike
Emily Owens, Rapha
Dani Reyes-Acosta, POW Snowboard
Laura Schaefer, POW Board Member, Orvis
Sarah Sturm, POW Bike
Emily Tidwell, POW Creative Alliance
Barry Wicks, POW Bike Team Captain