After year of sticky turns, most impactful clean energy legislation is on horizon
Back
Photo by Micheli Oliver
Those of us who love adventure sports are used to getting turned back, worked, shut down, spit out—then gearing up and setting out again. Success is never guaranteed. Getting denied with the summit in view is particularly painful. Other times the situation turns in an instant giving you the advantage at just the right moment, making victory that much sweeter.
Today, after a year of advocacy and a rollercoaster of negotiations, we are on the precipice of passing the most impactful climate legislation–ever. The 2022 Inflation Reduction Act, to be passed through budget reconciliation, invests $369 billion into clean energy, clean transportation and the green technology that will transform how we source, distribute and consume energy in America.
The impact of these investments will ripple through the marketplace, homes and communities across the U.S. Globally this places the U.S. back into a leadership role on climate, opens clean energy markets and prioritizes America's energy security. Early estimates by the Rhodium Group show that with this package, the U.S. will be on track to a 40% reduction in emissions by 2030 and within striking distance of the 50% goal. It is, in technical terms, a BFD!
The 2022 Inflation Reduction Act includes much of what the POW alliance, partners and supporters have been championing for years including:
Incentives for solar, wind, storage and electrification ($200B)
Investments in domestic manufacturing of clean energy components ($37B)
Credits for new and used electric vehicles ($14.2B)
Funding directed to communities most affected by pollution
Fee on methane emissions
Along with Superfund clean-up, clean fuels and more ($31B+)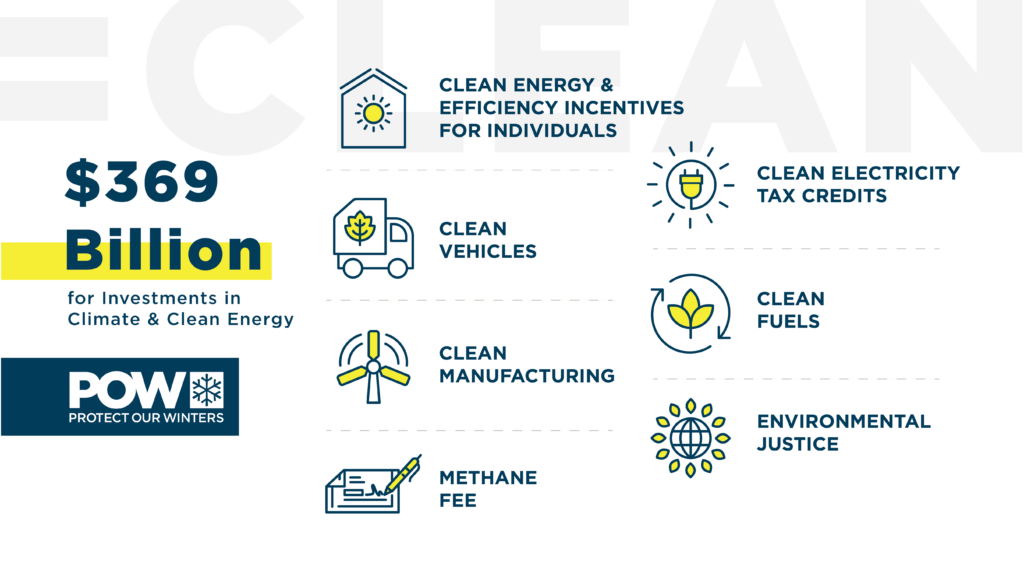 *preliminary estimates, not inclusive of all categories
These investments build on the Bipartisan Infrastructure Act's $150 billion investment into energy infrastructure needs passed last fall. Infrastructure work including urgently needed updates to the grid, building a national EV charging network, clean energy research and the capping of leaking methane from wells is already underway.
The $500 billion from both bills combined, marks the most historic climate investment in history. This is not reckless spending, this is wise investing in energy security and protection for the places and lifestyles we as skiers, snowboarders, climbers, trail runners and mountain bikers love and depend on.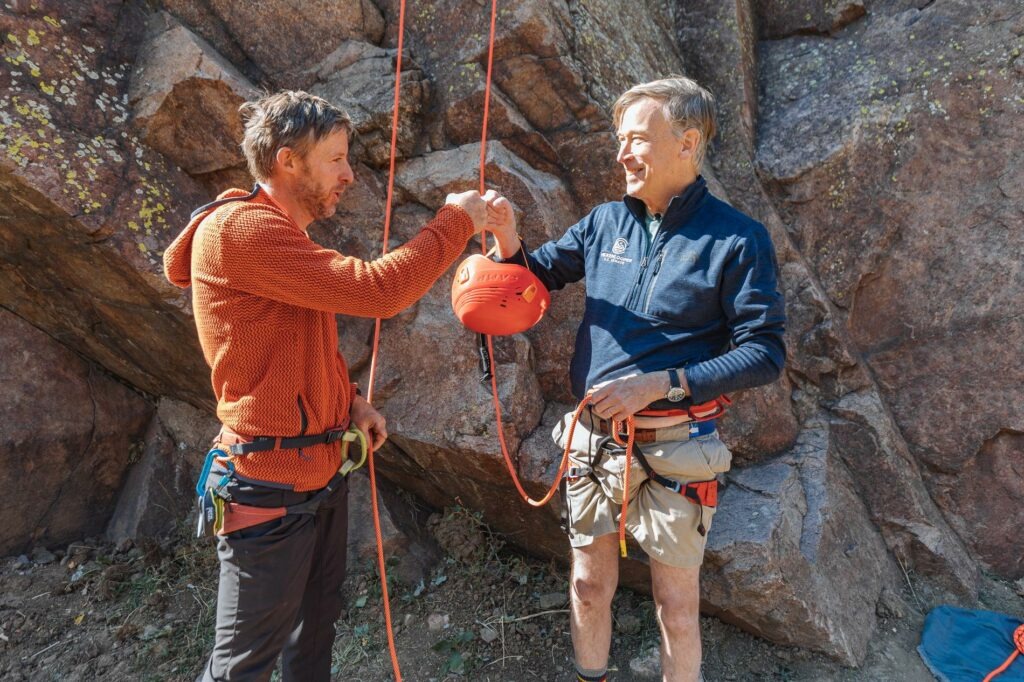 It took all of us and many others to get here. Over the last year, with your support, POW alliance members wrote dozens of OpEds, Tommy Caldwell took Sen. Hickenlooper, a champion of the climate package negotiations, climbing and encouraged him to get this done (maybe spurring his perseverance in Congress?). Then in April of this year, POW Alliance Olympians joined the POW Action Fund on Capitol Hill, at the Dept. of Interior and the White House toting medals and a list of urgent policy asks (many of which are in this legislation!).
As the bill continued to take shape, this June POW AF organized outdoor business and ski resort leaders and dozens of athletes including members of the new POW Bike team, along with Jeremy Jones and I for an urgent trip back to Capitol Hill. In a full court blitz we met with members on both sides of the aisle, both chambers, four federal agencies and the White House. POW Alliance Members and corporate partners wrote dozens of OpEds and created content pieces highlighting the benefits of clean technologies like this EV video with skier Max Hammer.
After some tough negotiations, the bill was days from a vote. Then Senator Manchin caught an edge and pulled his support, seemingly ending the biggest legislative effort on climate in history's run, right at the finish line.
We pushed on. POW worked with business leaders in West Virginia including the President of Snowshoe Resort and the POW Alliance on letters and opinion pieces making the economic case directly to Senator Manchin. Last Wednesday, Senators Schumer and Manchin, with major behind the scenes efforts from Senator Hickenlooper, struck a deal. What we have now is not the exact legislation from a year ago. It is missing some things we hoped to see and includes some things we didn't want, but this historic result is proof of the impact of collective action.
We haven't summited yet, but we're in the final push. The bill must pass the Senate, and then go to the House. From there it heads right to President Biden's desk, where he's eager to sign it. At that moment, we can finally unlace our boots, throw some high-fives and grab a cold one.
Thank you for your involvement, thank you for your support. This is what we can accomplish when we Show Up, Speak Out and VOTE.
Thank you.
Belong to the Solution,
Mario Molina
Executive Director
---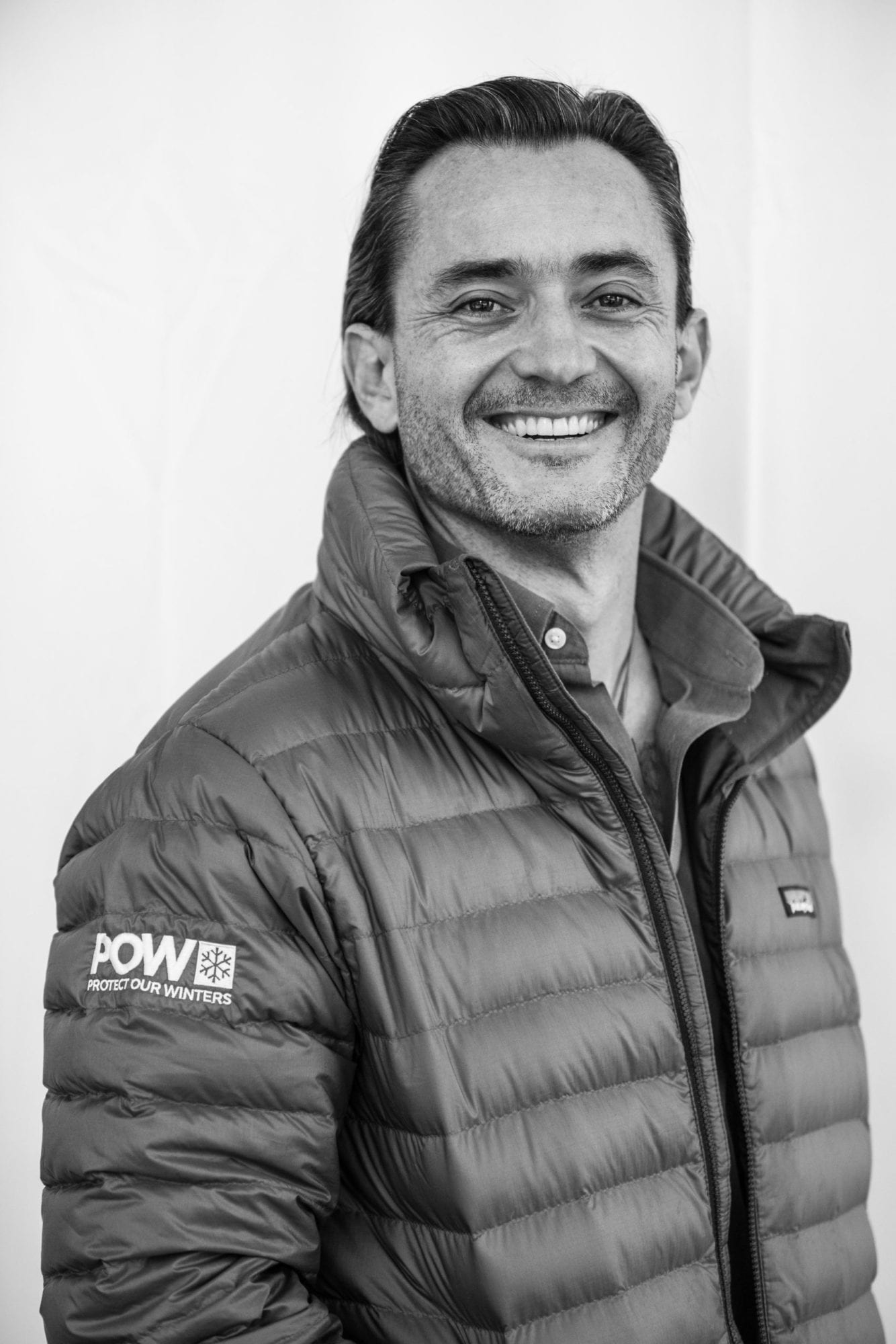 Author: Mario Molina
An avid alpinist, snowboarder, mountain biker, guide, and life adventurer, Molina previously served as international director at The Climate Reality Project, where he designed the organization's climate leadership trainings and oversaw its post-Paris Agreement international strategy. Prior to his work at Climate Reality, Molina led strategy and programs as deputy director at the Alliance for […]